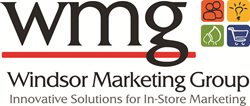 Windsor Marketing Group was recognized for participating in several initiatives to reduce its energy and environmental footprint as part of the company's overall commitment to running a sustainable operation
Hartford, CT (PRWEB) December 02, 2014
Windsor Marketing Group (WMG), an innovative in-store marketing company based in Suffield, CT has been recognized by the Department of Energy and Environmental Protection as a Green Circle Award recipient.
The award was presented on Tuesday, Dec. 2 at the agency headquarters in Hartford.
The GreenCircle Award is presented in honor of businesses, institutions, civic organizations, and individuals that participated in an activity that benefited the Connecticut environment.
Windsor Marketing Group was recognized for participating in several initiatives to reduce its energy and environmental footprint as part of the company's overall commitment to running a sustainable operation.
Those initiatives included enacting changes to reduce overall energy or water usage by 15 percent, documenting and implanting a facility-wide pollution prevention plan, and implementing a manufacturing plan that eliminates or significantly reduces the quantity or toxicity of a facility's waste stream.
In addition, WMG introduced "green pallets" to clients in an effort to reduce the consumption of wood pallets. The WMG Deep Green Skid-pallet is a hexacomb-based paper skid pallet that contains approximately 11 percent recycled materials, is Sustainable Forestry Initiative (SFI) certified, and is 100 percent recyclable.
Windsor Marketing Group has a longstanding tradition of environmental stewardship that includes recycling 100 percent of waste paper, the utilization of soy-based inks and UV ink-printing technology, and the installation of a T5 lighting system with occupancy sensors throughout the building and energy efficient LED lighting in the parking lot.
For more information on Windsor Marketing Group, visit windsormarketing.com.
About Windsor Marketing Group
Windsor Marketing Group was founded in 1976 as an innovative in-store marketing company that creates, produces, and delivers shopper marketing programs that inspire and influence in-store buying patterns. The company utilizes cutting-edge technologies and creative innovations to assist its nearly 200 associates in serving over 3,000 retailers in the United States, including many of the nation's largest retailers.
WMG Social Responsibility Program
Windsor Marketing Group operates in an environmentally, economically and socially responsible manner, with a long tradition of outstanding environmental stewardship.
Windsor Marketing Group is proud to be featured in the 2013 business management book, Conscious Capitalism, for its heroic efforts in building its state-of-the-art facility in Suffield, Connecticut during the recession of 2008.
To learn more about this and why Windsor Marketing Group is uniquely positioned to provide strategic solutions to all of its clients' needs, please visit http://www.windsormarketing.com.