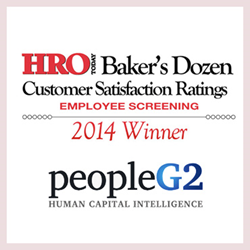 "I am honored to have PeopleG2 on the HRO Today Baker's Dozen list, and I am proud of our team that helps to provide such a great customer experience" - Chris Dyer, CEO of PeopleG2
Brea, CA (PRWEB) December 03, 2014
PeopleG2 is proud to announce that it has earned recognition as a Top Background Screening Provider by HRO Today magazine. The company was ranked #4 on the list of 13, the "Baker's Dozen" of Background Screening Providers.
HRO Today bases its assessment on feedback from customers of the companies nominated. In order to determine the overall ranking, every company is assessed on the categories of services offered, deal sizes and quality of service. The publication feels that their "Baker's Dozen" issue reflects the largest customer satisfaction research survey of its kind in the employment screening industry.
The CEO and founder of PeopleG2, Chris Dyer, expressed his excitement over being named to this list of top tier background screening providers. "I am honored to have PeopleG2 on the HRO Today's Baker's Dozen list, and I am proud of our team that helps to provide such great service and products to our customer's day in, and day out." Dyer continued, "With our state of the art technology, our personal hands on approach to customer service, and our ability to focus on each customer's unique business needs, we will continue to provide the highest level of service for our customers and their background check needs."
In addition to the aforementioned things that sets PeopleG2 apart, Dyer feels that their almost virtual platform makes them an even greater example of what successful companies can do. Urged on by the recession, Dyer made the decision to leave a brick and mortar office set up to weather some of the financial pressures and continue operating as a virtual business. "The virtual business model has created an atmosphere of autonomy, accountability and a stronger work ethic. Our team has their roles and understands the importance of being top performers," Dyer said.
About PeopleG2 Inc.
Founded in 2001, PeopleG2 is a leading human capital due diligence service provider. The company has consistently set itself apart from the industry's highly commoditized, excessively automated background check service providers by focusing on each customer's unique business needs and being a flexible, hands-on provider.
PeopleG2 is redefining the employment screening industry with background checks that allow for the many different ways that organizations can discover and ensure the best quality and best fit in their hiring processes. PeopleG2's delivery model – which includes traditional, custom and best-fit employment screening programs — relies heavily on human judgment and oversight. PeopleG2's employment screening delivery model is client-centered, consultative, custom and comprehensive. Those are the cornerstones of their success and reasons why clients stay.