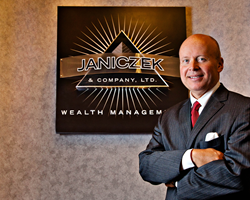 Greenwood Village, CO (PRWEB) December 02, 2014
On December 2, 2014, the U.S. Patent and Trademark Office granted patent number 8,903,739: Systems and Methods for Optimizing Wealth to Joseph J. Janiczek, founder and CEO of Janiczek Wealth Management. The patent covers the process of generating a financial profile for a client, then comparing the financial information to a plurality of strengths. Using a grid system and incorporating financial attributes, an optimal level of financial advantage can be determined.
Joseph J. Janiczek, a pioneer in Strength Based Wealth Management and Evidence Based Investing, said, "Decades in the trenches with accomplished business leaders experiencing a life-changing liquidity event offered the ideal extreme conditions conducive to innovation. Simply put, I do not believe people who experience good fortune should have to struggle to keep the wealth they created protected, growing and serving them. All too often wealth masters people instead of people mastering wealth."
Myrna Schelling, Senior Counsel with Carr & Ferrell LLP, commented, "The issue of this Optimizing Wealth patent demonstrates Janiczek Wealth Management's leadership in investment and wealth management by measuring, assessing and reporting each client's financial strengths, weaknesses and vulnerabilities. Carr & Ferrell is very pleased to be representing this company as it continues to develop its IP portfolio."
The patent has applications and benefits beyond the affluent market served by Janiczek Wealth Management. Joseph J. Janiczek said he also founded Wealth with Ease, LLC as a separate intellectual capital entity to own the rights and consider options to develop and/or license the patent and other IP to help people of all levels of income and net worth master money. "Much like autonomous self-driving or driver assisted cars being developed by Google, Tesla and others, I believe this patent and other IP under development paves the way for autonomous self-financial optimizing, or at a minimum, consumer-assisted financial optimizing applications that can greatly aid people of all economic means in mastering their money," says Janiczek. "The smartphone and tablet are ideal mobile tools that can harness the power of this new technology and I am evaluating alternatives and opportunities across various market segments."
For media inquiries, to arrange for an interview or an expert quote, please contact Susan Engel at 303-339-4460 or sengel(at)janiczek(dot)com.
About Janiczek & Company, Ltd.
For nearly a quarter century, Janiczek & Company, Ltd. has delivered comprehensive investment and wealth management services that are tailored to the needs of high net worth investors (individuals with portfolios of $1 to $20 million) and ultra-high net worth investors (individuals with portfolios of $20 million+). The firm specializes in serving accomplished business owners and C-level executives, with a particular specialty in assisting those experiencing a life-changing liquidity event. Named among the top, best and most exclusive wealth advisors in the country multiple times, the company has been a pioneer in Evidence Based Investing and Strength Based Wealth Management™. Serving clients across the country on a fee-only, fiduciary basis, it welcomes opportunities to serve like-minded clients within its exclusive niche. For more information go to http://www.janiczek.com or call Janiczek® at 303-721-7000.
About Carr & Ferrell LLP
Carr & Ferrell is a full-service law firm uniquely positioned to provide strategic patent and intellectual property, corporate, financing and litigation services. Located in the heart of Silicon Valley's technology and venture capital community, our attorneys leverage their technical, business and legal expertise to help emerging companies and investors transform business concepts into industry leading enterprises. A strong and focused firm, we have made senior level attention a hallmark of our clients' experience.