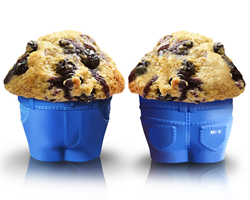 We came up with a novel yet functional way to enjoy cupcakes and muffins because baking is really about enjoying food, not worrying about waistlines
Los Angeles, CA (PRWEB) December 04, 2014
Bake ware company Mister Kitchenware introduces "Mr. Muffin", a set of unique bake cups, to their new silicone line. These original bake molds are designed to look like jeans, and mimic the "Muffin Top" look when the batter rises and spills over the waistband.
The company aims to deliver a unique product to re-ignite the bakers' spirit, just in time for Christmas. "We designed these with the knowledge that people are looking for fun, functional, no fail gifts that appeal to just about anyone. A great price point is also a huge bonus." Say Rachel Levy, spokesperson for Mister Kitchenware
Aside from the novel factor, Levy states that these baking molds were designed with high quality features to be enjoyed by beginner and advanced bakers alike. "These Bake molds are made with 100% food grade silicone that's freezer, dishwasher and microwave safe. They are also heat resistant up to 450 F"
The companies light-hearted take on enjoying food is what levy calls a "time to stop being obsessed with societies perception of beauty and just enjoy ourselves in a moderate, healthy way " She further adds, "We came up with a novel yet functional way to enjoy cupcakes and muffins because baking is really about enjoying food, not worrying about waistlines." The company acknowledges that while eating baked treats can sometimes worry dieters, baking with high grade silicone actually reduces fat intake. Silicone pans, liners and muffin molds require zero to minimal greasing, if at all. They advise the public to look for silicone bake ware that's 100% high quality food grade.
The Mr. Muffin 6 piece set is currently available on Amazon at the introductory price of $19.99. Baking fans can look forward to more exciting promos connected with this product's launch at http://www.MisterKitchenware.com. They can also receive free recipes and a chance at company giveaways at the "ILoveCupcakes2014" Mister Kitchenware fan page on Facebook.
Directions for use: Wash before initial use. Note that cooking sprays may cause slight discoloration. Product can stand up to 450F heat. Dishwasher, microwave and freezer safe, made out of 100% food grade silicone.