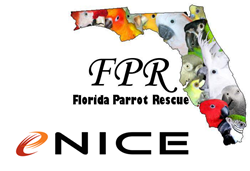 "We're beyond thrilled to offer eNICE to Tampa Bay nonprofits this year. We understand how powerful mobility can be to any organization..." -Pete Slade, CEO Nitro Mobile Solutions
Tampa, Fla. (PRWEB) December 03, 2014
Nitro Mobile Solutions, a leading provider of full-service mobile applications and platforms, announced today its donation of a free native mobile application and mobile services to Florida Parrot Rescue, a local nonprofit organization.
This initiative is a first for Nitro, which launched its own charitable arm, eNICE, earlier this year. eNICE stands for Empowering Nonprofits in Communications and Engagement, and its mission is to optimize charitable efforts for organizations with a 501(c)(3) tax-exempt status. By mobilizing an organization's outreach efforts, Nitro aims to help Tampa Bay nonprofits by drastically easing communications while increasing their awareness, engagement, and donations.
"We're beyond thrilled to offer eNICE to Tampa Bay nonprofits this year. We understand how powerful mobility can be to any organization, but especially to those that cannot otherwise manage mobile technologies independently. We view this effort as our small, special way of giving back to our community," said Pete Slade, CEO of Nitro Mobile Solutions.
Tampa Bay nonprofits were invited to apply for eNICE beginning in October. Interested organizations were instructed to download and submit an application that included the following questions:
1) Describe the history of your nonprofit organization.
2) What is the mission and purpose of your organization?
3) Describe your organization's greatest challenge.
4) Describe your organization's greatest need.
5) How would a mobile application benefit your organization?
Nitro Mobile Solutions will reopen the floor to Tampa Bay nonprofits in October 2015. For more information, visit http://www.nitromobilesolutions.com
About Nitro Mobile Solutions:
Nitro Mobile Solutions is an award-winning software development company providing enterprises and financial institutions with full-service native mobile applications and platforms. We provide our clients with the ability to build, edit and manage their mobile solutions—all within a single mobile infrastructure, and without the need for technical experience. Nitro uniquely delivers the complete mobile ecosystem you need. For more information, visit nitromobilesolutions.com and connect with us on: Facebook | Twitter | LinkedIn | Google+
About Florida Parrot Rescue:
Florida Parrot Rescue is dedicated to the rescue and rehabilitation of companion parrots. We strive to educate parrot owners on proper handling and care of parrots. Should someone be unable to keep their bird(s) for ANY reason, we want them to know there is a place to turn, and that they are not alone. It is our goal to provide a safe haven for birds that cannot stay with their owners or birds in need, and then to find those birds permanent forever homes with loving and responsible families. For more information, visit floridaparrotrescue.com and connect with us on Facebook.