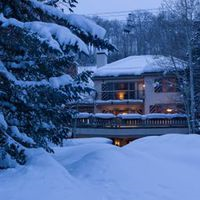 Pompano Beach, Florida (PRWEB) December 03, 2014
President Gerald Ford's Colorado ski retreat with Presidential Seal is for sale at $8.5 million and featured this week on the Top 10 Homes Spotlight at TopTenRealEstateDeals.com.
"President Ford's Colorado Ski Home"
When Gerald R. Ford first visited the Colorado Rocky Mountains on vacation in 1968, he was a novice skier and long-time Republican congressman from Michigan's 5th District. It would only be a few years before Ford became an accomplished skier and the President of the United States.
Ford grew up in Grand Rapids, Michigan where he was a high school football star and later the most valuable player at the University of Michigan where he was named to the 1935 College All-Star Team. Ford was so good that he received offers from two professional football teams, the Detroit Lions and the Green Bay Packers, to play linebacker. However, Ford chose to attend Yale Law School and went on to a career in politics instead of football. He was named the U.S. Vice President in 1973 replacing Spiro Agnew and President in 1974 taking over for Richard Nixon.
Sports remained an important part of Ford's life as he transitioned from football to golf and skiing, dividing his time between Rancho Mirage, California for golf and Colorado for skiing. After he was defeated by Georgia Governor Jimmy Carter in the 1976 election, Ford spent much of his free time on the slopes and later bought a ski home in Beaver Creek.
The Colorado ski home where dignitaries such as Bill Clinton, Margaret Thatcher and Henry Kissinger visited Ford is now for sale. Like many homes in the Vail Valley, Ford's home was built in the Bavarian mountain manor style with prominent flower boxes, window shutters and steep roof lines. But something extra - an entry hallway that welcomes its visitors with the Seal of the President of the United States, inlaid with polished granite and native stone in the entryway floor.
Deceptively large at 11,849 square feet, the ski-in ski-out home, originally built in 1983, underwent a $4 million renovation in 2009. Designed for security, the main living level is in the upper levels while the lower entry level was used as separate living space for the Secret Service, now used as guest quarters. The Secret Service level includes a kitchen, theater and recreation rooms, wet bar, and a climate-controlled glass wine room. There is also an indoor swimming pool used frequently by President Ford. The main upper level has a large great room with fireplace, cathedral ceiling, skylights and over-sized windows with views of Beaver Creek Mountain. A chef's kitchen provides commercial-style appliances with catering kitchen and large butler's pantry for formal gatherings. The President's former home office has a large fireplace, Ford's desk and the floor tiles behind the desk have been left intact, showing the original marks made by his chair. Sleeping arrangements are generous with seven bedrooms and a house total of eleven baths. The master suite contains a claw foot fireplace with an engraved inscription by President John Adams that originally came from the Lincoln Bedroom in the White House.
President Gerald R. Ford's much loved ski retreat with presidential seal and host for world dignitaries is for sale at $8.5 million. The listing agent is Tye Stockton of Sotheby's International Realty in Vail, Colorado.
Visit TopTenRealEstateDeals.com for more celebrity, historic, famous and spectacular homes.