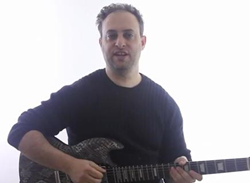 (PRWEB) December 03, 2014
Claude continues this series of licks that combines notes from the minor pentatonic scale as well as the Dorian Mode. In this installment Johnson combines the techniques of bending and legato to blend the sounds of the two scales. Johnson says that you can get more lessons like this in his course "Killer Guitar Control Secrets". That course as well as guitar TAB's for this video lesson are available at GuitarControl.com.
A Pentatonic Scale is a musical scale with five notes per octave and is very common and found all over the world.
Dorian is the second of the seven major modes. The name Dorian comes from the Greek referring to the "Dorian Greeks". Since the Dorian Mode is made up from the major scale with a lowered 3rd and 7th (minor 3rd & 7th), it can be played over minor, minor 7th, and minor 9th chords and is compatible with many major chord progressions and keys. Many modern and classic rock guitarists have used the Dorian Mode in there compositions such as Carlos Santana, Toni Iommi, and Sound Garden to name a few, a notable song based in the Dorian Mode is Scarborough Fair by Simon & Garfunkel.
Claude Johnson
Claude Johnson, a native of Philadelphia PA, began playing guitar in 1990 after being inspired by players like Jimi Hendrix, Eric Clapton, and Stevie Ray Vaughn. He is the creator of GuitarControl.com and has helped 1000's of people to learn to play the guitar with his critically acclaimed instructional DVD courses, all available at GuitarControl.com
About GuitarControl.com
GuitarControl.com is the leader in modern guitar instruction. It's packed with recourses including articles, video lessons, and the best videos in the business for the beginner to the advanced guitar student taught by the best instructors out there. Weather you are into the blues, rock, jazz, metal, folk, or anything in between, they have you covered.