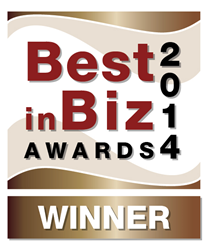 Our personalized approach to customer support offers a boutique experience not found elsewhere in the Human Capital Management software space - Jeff Lacy
ELKHART, IN (PRWEB) December 03, 2014
Electronic Commerce, Inc. (ECI) has been named a winner in Enterprise Service of the Year in the Best in Biz Awards 2014, the only independent business awards program judged by members of the press and industry analysts.
Best in Biz Awards' fourth annual North American program was its most competitive yet. As in previous years, the fourth annual program in North America featured a large and distinguished judging panel comprised of members of the media who reviewed and scored the hundreds of award nominations. More than 550 award nominations were received this year in a variety of company, executive, team, and product focused categories. Nominations were fielded from public and private companies of all sizes, from virtually every major industry and region in the U.S. and Canada.
Best in Biz Awards 2014 honors were presented in 60 different categories including Company, Team, Executive, Product, and PR and media.
"We are excited to have won a Best in Biz Award in the Product category for customer service since the high level of customer support we provide our clients largely differentiates us," said Jeff Lacy, ECI President and CEO. "Our personalized approach to customer support offers a boutique experience not found elsewhere in the Human Capital Management software space. When a client calls for support, they are connected to a live person, and never put in a support queue. Our team loves hearing from and working with our customers, and we pride ourselves in a 97% client retention rate with 93% of our clients saying they would refer us to a friend."
"In the more than 10 years I have been covering consumer issues I have seen vast improvements in customer service policies put in place by major corporations. It was especially gratifying to see the levels of service achieved by this year's entries in Best in Biz Awards," said Mark Huffman, Consumer Affairs. "In the Internet age, it has never been more important to ensure your customers have a positive experience and, should there be a problem, to address it. These companies 'get it,' and that's not only good for them, but good for customers too."
Winners of Best in Biz Awards 2014 were determined based on scoring from an independent panel of 53 judges from highly recognized newspapers, business, consumer and technology publications, radio outlets, and analyst firms. In addition to the numerous judges returning from previous panels, this year's 53-person judging panel included several worthy additions to this high-profile group. The panel included contributors to AdWeek, American Banker, Android Central, Atlanta Tribune, Boston.com, Buffalo News, Business News Daily, Chip Design Magazine, Computerworld, Connecting Women Radio, Consumer Affairs, Crain's New York Business, CRN, Detroit Free Press, Digital Trends, ECT News Network, Entrepreneur, eWeek Channel Insider, Fierce Online Video, IDB Ventures, IEEE Institute, Inc. Magazine, InfoRisk Today, Information Week, Journal Times, King Features Syndicate, L.A. Biz, Lab Reviews, Law Technology News, Marketing Profs, MediaPost, Miami Herald, Motley Fool, New York Observer, NorthBay Biz, PC Magazine, peHUB, Phoenix Business Journal, Quad-City Times, San Jose Mercury News, Silicon Valley Business Journal, Small Business Digest, Tech Cocktail, Tech-Gaming, TheDeal.com, Upstart Business Journal, Venture Capital Journal, Wired, Xconomy and ZDNet.
For a full list of gold, silver and bronze winners in Best in Biz Awards 2014, visit: http://www.bestinbizawards.com/2014-winners.
About ECI
Specializing in Human Capital Management solutions, ECI® created its Empower software to provide mid-sized companies with a web-based, fully unified platform that covers the entire employee lifecycle. Users can seamlessly transition from one HR task to the next inside a secure, single database. Leveraging cloud-based, SaaS (Software as a Service) deployment, single sign on access and a variety of user-friendly features, Empower delivers the ability to streamline communication, automate workflows and simplify the user experience across a full scope of employee administration requirements. ECI has earned several awards, but is most proud of a 97% client retention rate. Learn more at http://www.ecipay.com or call 800-320-9530.
About Best in Biz Awards
Best in Biz Awards recognizes top companies, teams, executives and products for their business success as judged by established members of the press and industry analysts. Best in Biz Awards honors are conferred in two separate programs annually: North America, and International. Entries will begin to be accepted in the Best in Biz Awards 2015 International program in January 2015. Any organization worldwide may participate in the International program in any of the more than 60 company, department or team, executive and product categories. For more information about the entry process and categories in the International program, please visit: http://intl.bestinbizawards.com.