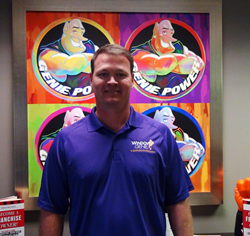 The lifestyle aspect of the business is the most valuable thing Window Genie can give me.
Columbia, SC (PRWEB) December 03, 2014
Window Genie announces the grand opening of its newest location in Columbia, SC on Monday December 1st. Mike Hoos is the owner/operator. Window Genie is a nationally ranked home service franchise specializing in window cleaning, window tinting, pressure washing, gutter cleaning and more. Window Genie of Columbia will service the northern Columbia communities including Chapin, Lexington and Irmo.
Before purchasing a Window Genie franchise, Mike Hoos spent 23 years in the Army serving overseas in a number of countries including Kuwait, Russia, Bosnia, Kosovo and Afghanistan before retiring in the summer of 2013. Hoos said, "After so many years of moving around, my family decided it was important to settle down in one community once the kids reached high school age."
Pending his retirement, the Army took Hoos through a number of classes designed to help him make a smooth transition back to civilian life and figure out his second career. He was presented with the idea of owning a business, and while that interested him, he took a position with Amazon as an Operations Manager instead. Hoos said, "I wasn't ready at the time for the uncertainty that goes along with business ownership. I needed more time to learn about business and explore the different opportunities of franchising. I enjoyed my time at Amazon but began working 14 to 16 hour shifts, sometimes at night; the work-life balance wasn't what my family needed so I re-visited the idea of owning my own business."
After working with a franchise coach with The Entrepreneur's Source, Hoos was presented with 6 franchise opportunities; Window Genie being one of them. After speaking with both the corporate team and existing franchise owners at Window Genie, Hoos said, "It was a no brainer for me. The family-like team culture was something I wanted to be a part of. I was just so impressed with the corporate team in Cincinnati. Their genuine dedication to every franchise partner's success was evident while speaking with existing franchisees. Every one of them was happy and felt the system provided them every tool needed to not only succeed but grow."
Hoos says he and his family are excited for the new chapter in their lives. "We're up for the challenge. We know it's not going to be easy but it will be worth it. I'm proud to have taken control of my own success and be responsible for creating a life that revolves around family and hard work. With Window Genie I can make all my kids' basketballs games, be home for dinner, spend time with them on the weekends and still reach my goals and make a living. The lifestyle aspect of the business is the most valuable thing Window Genie can give me."
Window Genie of Columbia is open for business. All field technicians have undergone background checks, are fully trained, insured and bonded. Estimates are free. For more information please contact Mike Hoos at (803) 298-5066 or mhoos(at)windowgenie(dot)com
About Window Genie: Window Genie started in 1994 in Cincinnati Ohio as a small local window cleaning business. Window Genie now offers a variety of services including window cleaning, window tinting, pressure washing, gutter cleaning and more. Franchise operations began in 1998; there are now over 70 locations in 23 states. Franchise opportunities available nationwide. Visit http://www.windowgeniefranchise.com to learn more.
###