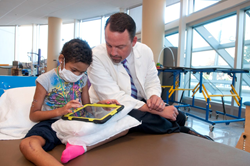 "We are tremendously proud to be chosen as the first pediatric rehabilitation hospital to ever receive this award"
New Brunswick, New Jersey (PRWEB) December 02, 2014
For the first time, The Leapfrog Group has named Children's Specialized Hospital, as the first and only pediatric rehabilitation hospital to its annual list of Top Hospitals. An elite distinction awarded to hospitals nationwide for demonstrating excellence in hospital safety and quality through the Leapfrog Hospital Survey, the Leapfrog Top Hospital award is given to less than seven percent of all eligible hospitals. The awards, which are given annually, were announced at Leapfrog's Annual Meeting and Top Hospital Awards on December 2, in Washington, D.C.
As the nation's largest non-profit pediatric rehabilitation hospital, Children's Specialized Hospital, a member of the Robert Wood Johnson Health System, treats children with chronic illnesses and pain, complex physical disabilities, complications resulting from prematurity and rehabilitation from major surgery or life changing injuries like brain and spinal cord injuries. Nationwide, 1,200 hospitals were eligible for the designation and 94 received it, including nine children's hospitals.
"It is incredibly hard to fit the unique services we provide into a typical healthcare survey or quality measure. Our team has worked extremely hard to distinguish ourselves and share the exceptional work of our clinical team in the areas of quality and safety," said Amy B. Mansue, president and CEO, Children's Specialized Hospital. "We are tremendously proud to be chosen as the first pediatric rehabilitation hospital to ever receive this award and we are grateful for the opportunity to help people understand why this recognition is so important."
Out of 60 hospitals in New Jersey that were evaluated by the LeapFrog Group in 2014, Children's Specialized Hospital received the best possible rating in the areas of: safety, preventing medication errors, taking steps to avoid harm and managing serious errors rating in the 2014 The Leapfrog Group independent hospital rating survey.
The hospital's quality scores were almost double the national averages in the 2014 The Leapfrog Group independent hospital rating survey:
2014 LeapFrog Data
Children's Specialized Hospital
Quality* 99%
Use of Resources* 100%
National Averages
Quality 60%
Use of Resources 61%
*Quality measures includes Leapfrog's standards for preventing medication errors (CPOE), physician staffing, safe practices, never events, and in some cases preventing hospital-acquired conditions such as infections, among others.
*Use of resources examines use of healthcare tools/methods including electronic medical records, staffing ratios and computerized medication order entry, among others.
"Leapfrog's Top Hospital award is widely acknowledged as one of the most prestigious distinctions any hospital can achieve in the United States. It recognizes institutions for their excellence in quality of care and patient safety, as well as their commitment to transparency. By achieving Top Hospital status, Children's Specialized Hospital has proven it's a premier institution and deserves to be recognized for its dedication to the families and patients in New Jersey and beyond," said Leah Binder, president and CEO of The Leapfrog Group.
Children's Specialized Hospital was one of 94 Top Hospitals recognized nationally. The list includes:

25 Top Rural Hospitals
60 Top Urban Hospitals
Nine Top Children's Hospitals
Among the hospitals reaching this achievement are:

Academic medical centers
Teaching hospitals
Community hospitals in rural, suburban and urban settings
The selection is based on the results of The Leapfrog Group's annual hospital survey, which measures hospitals' performance on patient safety and quality, focusing on three critical areas of hospital care: how patients fare, resource use and management structures established to prevent errors. Performance across many areas of hospital care is considered in establishing the qualifications for the award, including rates for high-risk procedures and a hospital's ability to prevent medication errors.
The Top Hospital award is not given to a set number of hospitals, but rather, to all urban, rural and children's hospitals that meet the high standards defined in each year's Top Hospitals Methodology.
To learn more about Children's Specialized Hospital, please visit: http://www.childrens-specialized.org.
To see the full list of institutions honored as a 2014 Top Hospital, please visit http://www.leapfroggroup.org/tophospitals.
Children's Specialized Hospital is the nation's leading provider of inpatient and outpatient care for children from birth to 21 years of age facing special health challenges — from chronic illnesses and complex physical disabilities like brain and spinal cord injuries, to developmental and behavioral issues like autism and mental health. At thirteen different New Jersey locations, our pediatric specialists partner with families to make our many innovative therapies and medical treatments more personalized and effective...so children can achieve more of their goals. To help, or find more information: call 888-CHILDRENS; visit http://www.childrens-specialized.org; Facebook, Twitter @childrensspecnj, YouTube, LinkedIn.
About The Leapfrog Group
The Leapfrog Group is a national nonprofit organization using the collective leverage of large purchasers of health care to initiate breakthrough improvements in the safety, quality and affordability of health care for Americans. The flagship Leapfrog Hospital Survey allows purchasers to structure their contracts and purchasing to reward the highest performing hospitals. The Leapfrog Group was founded in November 2000 with support from the Business Roundtable and national funders and is now independently operated with support from its purchaser and other members. The Hospital Safety Score is an initiative of The Leapfrog Group.