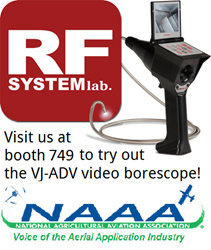 (PRWEB) December 03, 2014
The National Agricultural Aviation Association (NAAA) Annual Convention is the world's largest trade show for agricultural aviation. RF System Lab is excited to announce that they are expanding their presence to include the agricultural aviation industry. The VJ-Advance video borescope, already a top choice for commercial and military aviation inspection applications, will be presented at the NAAA Annual Convention to agricultural aviation professionals.
The conference takes place Dec. 8-11, 2014 at the Kentucky International Convention Center in the heart of Louisville, KY. NAAA's Annual Conference will feature educational and training sessions, a live and silent auction, opportunities to "ask the experts," and over 140 exhibitors.
RF System Lab hopes to catch the eye of aviation maintenance professionals while exhibiting at the NAAA Annual Conference. The VJ-Advance articulating video borescope is the perfect tool for a variety of aviation inspections, especially in an industry where aircraft are a critical component of high-yield agriculture; which means keeping downtime to a minimum is a must.
Borescope expert Zack Wessels will be onsite at booth 749 to provide VJ-Advance demos and answer any questions about how RF System Lab's video borescope can help ensure that agricultural aircraft stay in flight. Exhibits open at 12:00 p.m. on Tuesday, Dec. 9th.
If interested companies are unable to make it to the NAAA Annual Conference, there is still a chance to test the VJ-Advance video borescope onsite at their facility. Industry professionals can visit the RF System Lab website to sign up for the no-cost, no-obligation demo program. For more information about RF System Lab or the VJ-Advance video borescope, call 888-747-6526.