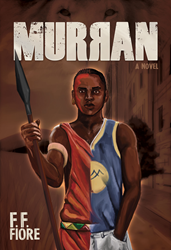 "If You Don't Initiate the Young, They Will Burn Down the Village to Feel the Heat" "If You Don't Initiate the Young, They Will Burn Down the Village to Feel the Heat" - African Proverb
Phoenix, Arizona (PRWEB) December 03, 2014
"If You Don't Initiate the Young, They Will Burn Down the Village to Feel the Heat" - African Proverb
"When the president was talking last night about training the police, of course, the police should be trained," Rudy Giuliani said recently on CNN's NEW DAY (http://edition.cnn.com/TRANSCRIPTS/1411/25/nday.04.html). "He also should have spent 15 minutes on training the [black] community to stop killing each other. In numbers that are incredible … They are killing each other. And the racial arsonists, who enjoyed last night, this was their day of glory. What are the causes? What about family problems? How do we solve them?" asked Rudy Giuliani (http://www.nyc.gov/html/records/rwg/html/bio.html), the former Federal prosecutor and New York City mayor.
Author F.F. (Frank) Fiore could not agree more with Giuliani's recent statements. In his newly released 'coming-of-age' novel, MURRAN from Indigo River Publishing, Fiore shows a way that might answer Giuliani's questions and even prevent the Ferguson events from being repeated. Brooklyn-born Fiore has done extensive research for MURRAN on Black youth in urban settings and gang membership including working with a story consultant who once himself was a gang member. Fiore has concluded that the single biggest cause to the failure of today's African-American society is lack of a 'rite of passage' for their youth.
Michael Brown was killed. The reasons for this tragedy are not to be debated here. Rather, the question to ask is what really are the root causes of this tragedy?
"Young Boys have little in today's society to initiate them into manhood," Fiore states. "Men are made - not born. Gang membership or scoring high in Grand Theft Auto is not a rite of passage. Today's 'rites', as they may be called, lack any semblance of core values - values needed to guide boyhood into manhood."
Fiore goes on to explain that in his book there are two ways to get out of a gang… death or prison. The story shows that there is a third way – build core values that offer an alternative to gang violence.
"The story told in MURRAN is a realistic, down and gritty novel that projects a positive message for today's youth," Fiore says. "My character Trey, a young African-American, goes from being framed for murder by the streets gangs in 1980s Brooklyn to a Maasai village in Kenya (http://www.maasai-association.org/maasai.html). While in Africa, Trey goes through the Maasai warrior's 'rite of passage' then returns to America to confront the gang leader that framed him. In the process Trey learns what a true African warrior is and carries those Maasai 'core values' of respect, responsibility and ritual back to his 'tribe' in Brooklyn."
Wanting to open dialogue on his reality-based story, Fiore is offering his expertise to media outlets immediately. Please contact his publicist, Dianemarie Collins, dm(at)dmproductionsllc(dot)com for scheduling.
MEDIA KIT: http://indigoriverpub.com/mediakit/murran
About F.F. Fiore
F.F. Fiore is a bestselling author of non-fiction books and has also penned four 5-star rated stirring thrillers and action/adventures. His works include CYBERKILL, a techno-thriller; The Oracle, a collection of short stories bound by a larger tale; and The Chronicles of Jeremy Nash, a series of novels centered on conspiracy theories, unsolved mysteries, urban myths, and other themes. http://www.FrankFiore.com
About Indigo River Publishing
Indigo River Publishing (IRP) unique strategies allow them to produce product quality on par with the large publishing houses, while still remaining small and flexible enough to remain on the cutting edge of the industry. IRP is not in the business to simply bind and print books. They take on a limited number of new projects each year to ensure the product's integrity, deliver books of the highest-quality, and focus on the most effective book promotions. Indigo River accepts books for publication that are vibrant, full of life and have strong voices and positive messages. http://www.indigoriverpublishing.com