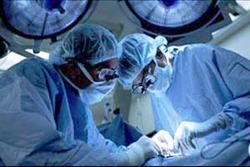 To Discuss Filing A Power Morcellator Lawsuit, Please Contact Alonso Krangle LLP At 1-800-403-6191 Or Visit Our website, fightforvictims.com. Alonso Krangle LLP Is Headquartered In Long Island, NY, With Offices In NYC, And NJ.
New York NY (PRWEB) December 03, 2014
Alonso Krangle LLP, a law firm dedicated to representing clients in power morcellator lawsuits, reports that federal regulators have announced further steps to mitigate the potential for power morcellators to spread uterine cancers when the devices are used in hysterectomies and myomectomies (fibroid removal surgeries). In an alert issued on November 24, 2014, the U.S. Food & Drug Administration (FDA) warned that power morcellators can spread cancerous tissue if they are used on women who have undiagnosed uterine sarcomas or other gynecological cancers. The FDA has asked morcellator manufacturers to add new boxed warnings to their product's labels, and has urged doctors to share this information with their patients.
(fda.gov/MedicalDevices/Safety/AlertsandNotices/ucm424443.htm, FDA, November 24, 2014)
The new upgraded warning also advised that power morcellation is contraindicated in uterine fibroid patients who are peri- or post-menopausal, or are candidates for en bloc tissue removal, for example through the vagina or mini-laparotomy incision. According to the FDA, this patient population includes the majority of women in need of hysterectomy or myomectomy. The FDA also advised against the use of morcellators in women who are known to have, or are suspected to have, a uterine malignancy.
A laparoscopic power morcellator is used in minimally invasive procedures to slice uterine tissue and fibroids into fragments so that they can be removed through a small incision in the abdomen. According to the FDA, the device may disseminate undetected cancer cells as it cuts up this material. In April 2014, the agency first issued an advisory discouraging doctor from using power morcellators in uterine surgeries due to this risk.
(fda.gov/downloads/MedicalDevices/Safety/AlertsandNotices/UCM393589.pdf, FDA, April 17, 2014)
In its latest alert, the FDA estimated that the prevalence of unsuspected uterine sarcoma in patients undergoing hysterectomy or myomectomy for presumed fibroids is 1 in 352, while the prevalence of unsuspected uterine leiomyosarcoma is 1 in 498. Both of these estimates are higher than the clinical community previously understood. Spread of these malignancies beyond the uterus can significantly reduce a patient's chances for long-term survival, the FDA said.
The FDA's upgraded power morcellator warning comes just weeks after the tragic death of Brenda Leuzzi, a New York woman who was diagnosed with cancer following a hysterectomy where such a device was used. Andy Alonso of Alonso & Krangle LLP and Dr. Francois Blaudeau with Heninger Garrison Davis, LLC recently filed a morcellator lawsuit in U.S. District Court, Eastern District of New York, on behalf of Ms. Leuzzi and her husband which alleges her cancer was upstaged by the device used in her surgery. Among other things, the lawsuit claims that Johnson & Johnson and its Ethicon unit were aware of the risks associated with power morcellators, including its Morcellex product, and failed to warn of the dangers and hazards of using the device for uterine morcellation procedures. (Case No. 6:14-cv-06218)
About Alonso Krangle LLP And Filing A Power Morcellator Lawsuit
Andres Alonso And David Krangle, Attorneys With 40 Years Of Collective Legal Experience, Have Focused Their Law Practice On The Handling Of Significant Personal Injury Cases, Defective Drug And Medical Device Litigation, Construction Site Accidents, Nursing Home Abuse, Medical Negligence, Qui Tam/Whistleblower Actions And Consumer Fraud Cases. A Nationwide Law Firm Representing Injured Victims Throughout The U.S., Alonso Krangle LLP Is Headquartered In Long Island, New York, With Offices In New York City, And New Jersey. To Discuss Filing A Power Morcellator Lawsuit, Please Contact Alonso Krangle LLP At 1-800-403-6191 Or Visit Our website, fightforvictims.com.
For More Information About Alonso Krangle LLP Or To Join The Fight And Be A Part Of Our Team, Please Contact Us At 1-800-403-6191 Or Visit Our Website, http://www.fightforvictims.com.