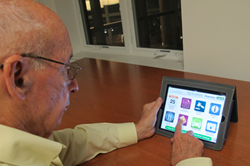 Needham, Massachusetts (PRWEB) December 03, 2014
North Hill, a leading senior resident community based in Needham, Massachusetts, has announced the launch of mynorthhill.org, a premier resident communication resource designed to increase community engagement and enthusiasm for life. Mynorthhill.org provides North Hill residents and their families with a portal to easily and effectively connect them to community services and programs using powerful, senior-friendly apps.
"Our focus," says Kevin Burke, CEO of North Hill, "is to continuously find innovative ways to enhance the lives of individuals who live and work at North Hill. By making it easier for residents to connect to activities and each other, mynorthhill.org helps our residents to achieve and maintain a purposeful life within our community."
The new technology is available to the more than 300 older adults who reside in North Hill's independent living neighborhood, as well as their guests and families. All residents will be able to access mynorthhill.org from campus computer labs or directly from their personal computers or tablets.
A North Hill resident, Rosemary Pierson, working with AJ Avakian, IT Director at North Hill, spearheaded this initiative to implement this user-friendly solution and help residents embrace this exciting new concept.
"I'm very excited about helping North Hill residents become more comfortable with technology," says Pierson. "The seniors here are very interested in mynorthhill.org. The senior-friendly nature of the Touchtown product makes it easy to use, and residents who had never before approached a computer are out buying iPads and enrolling in our tutorials. This technology is bringing our community together and will definitely bring North Hill to the forefront of other CCRCs in the area."
For more than 30 years, North Hill has provided residents with a purposeful living environment to drive engagement and enthusiasm. Working with Touchtown, a technology solution provider in the senior living industry, North Hill's new resident communication solution is packed with valuable features including:

One-touch access to real-time information including ongoing community activities, a resident directory, daily dining options and newsletters.
Ability to easily request services such as maintenance, housekeeping and technology.
Efficient routing of resident requests to appropriate staff.
"In our experience, communities that embrace a new technology solution and empower resident advocates are more likely to create a program with staying power." says Kim Kessler, President of Touchtown Lifestyle Solutions. "At North Hill, a resident champion led this initiative and actively educated the residents. This peer-to-peer approach accelerated resident adoption and more rapid engagement."
For more information and to learn about how North Hill enhances the lives of older adults, visit http://www.northhill.org/.
About North Hill
North Hill provides opportunities for vibrant living from its campus on the Needham/Wellesley line. Founded in 1984, a combination of location, the innovative Lifecare financial model and exceptional quality in healthcare and hospitality service have made North Hill one of the most sought-after retirement communities in Massachusetts. The North Hill vision is to be the leading provider of the most progressive, personalized healthcare and hospitality services to older adults in the Northeast. To learn more, visit http://www.NorthHill.org.
About Touchtown Inc.
Touchtown delivers transformational technology solutions to the senior living industry. Using Touchtown products gives owners and operators the power to unify and touch their entire community – residents, staff, prospects and families – through an integrated set of resident communication solutions.
Touchtown's products are used in over 1,000 senior living communities, where they keep residents in touch through interactive apps, private channel TV, digital signs, calendars, and websites. Touchtown's mission has remained unchanged since 1999: to make a difference in the quality of life for seniors and their families, and to provide it in a way that makes business sense for senior living providers. We provide value to our customers by improving operational efficiency, extending marketing reach, and enhancing the quality of life in their communities.