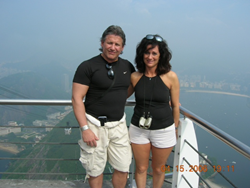 Diet Doc believes that everyone deserves the chance to be free of the burden of the unhealthy effects of embarrassing and uncomfortable excess fat.
Miami, FL (PRWEB) December 04, 2014
Because Diet Doc is consistently searching for innovative approaches to providing the safest and best weight loss possible for their clients, they have incorporated the healthy principles of the popular Mediterranean Diet into their already successful medical weight loss programs.
The Mediterranean Diet encourages people to eat as the islanders do, enjoying natural foods, nuts, fish and generous servings of delicious and nutritious green leafy vegetables. Those who follow the Mediterranean Diet benefit by, not only losing excess fat, but reducing their risk of inflammation which has a high association with heart attack and stroke.
Diet Doc extracted many of the healthiest principles of several popular diets, including the Mediterranean Diet, added the knowledge and expertise of a team of specially trained fast weight loss doctors, nurses and nutritionists, incorporated specially formulated 100% pure prescription hormone treatments to turn the body into a fat burning machine, prescription diet pills for those who need a jump start for even faster weight loss, and an impressive collection of nutrient rich, essential vitamin and mineral supplements that are essential to safe, healthy and fast weight loss. To this, the company added personalized diet plans that are tailor made for each patient's body size, shape, metabolism, nutritional and medical needs. They then added the convenience of allowing patients to lose weight without costly and time consuming visits to weight loss clinics and inserted personal service, attention and medical supervision throughout each patient's journey. This is why Diet Doc has become the leading, most respected and most reliable source of medical weight loss in the nation.
The professionals at Diet Doc believe that it is the right of every person to enjoy a life free from the burden of the weight related effects of carrying embarrassing and uncomfortable excess fat and has developed diet plans that have helped those of all sizes and shapes take control of their health by learning how to, not only lose weight quickly, but how to sustain their new body throughout their lifetime.
Diet Doc takes personal interest in each patient and their, often life changing, weight loss journey by monitoring their progress, comfort level and attitude throughout with scheduled weekly checkup calls. Personal, online doctor consultations enable the doctors to thoroughly review each patient's unique situation and to make recommendations for the safest, most rapid and most successful method of weight loss. The powerful combination of tailor made diet plans and Diet Doc's pure, prescription hormone diet treatments and exclusive diet pills speed the rate at which patients see fat melting from the hard to reach areas, while also eliminating the typical dieting side effects of hunger, cravings and loss of energy by signaling the brain to target fat that has become comfortably nestled around the heart and other internal organs, triggering its release into the bloodstream and quickly flushing it from the system.
By combining decades of scientific research with modern medical understanding and the heart healthy principles of the Mediterranean Diet, Diet Doc has become the nation's leader in medical weight loss programs and has helped people throughout the country look and feel better than ever before.
About the Company:
Diet Doc Weight Loss is the nation's leader in medical, weight loss offering a full line of prescription medication, doctor, nurse and nutritional coaching support. For over a decade, Diet Doc has produced a sophisticated, doctor designed weight loss program that addresses each individual specific health need to promote fast, safe and long term weight loss.
Diet Doc Contact Information:
Providing care across the USA
Headquarters:
San Diego, CA
(888) 934-4451
Info(at)DietDoc(dot)info
http://www.dietdoc.com
Twitter: https://twitter.com/DietDocMedical
Facebook: DietDocMedicalWeightLoss