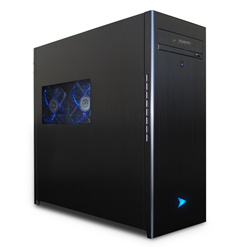 Richmond, VA (PRWEB) December 03, 2014
Velocity Micro®, the premier builder of award winning enthusiast desktops, laptops, and peripherals announces the launch of the GX3 chassis, a custom designed ATX case that combines sleek, universally appealing aesthetics with functionality, expandability, and superior cooling. Able to handle extreme graphics cards, a 240mm liquid CPU radiator, and up to six hard drives, the GX3 is the perfect start to an ultimate enthusiast desktop. Configurations start at $1,869.
"We've put our hearts and souls into the design of the GX3 chassis," said Randy Copeland, President and CEO of Velocity Micro. "We believe its unique combination of design, power capabilities, and outstanding thermals will make it extremely popular with our enthusiast audience. It's our new flagship chassis."
Paired with Velocity Micro's expert engineering, hand construction, and US-based support, the GX3 becomes the perfect base for creating the ultimate custom desktop. Features include:

Up to Six Hard Drives in a tool-less hard drive cage for quick and easy swapping
240mm radiator, closed loop liquid cool capable for extreme overclocking of Devil's Canyon and Haswell-E unlocked CPUs
Superior cooling even on air - top and bottom fans pull air in and across vital components while dual side fans push warm air out
Dual USB 3.0 and audio ports on the top of the chassis for easy access no matter your desk orientation
Solid aluminum construction turns the case into a giant heat sink, pulling warm air away from vital components
Understated case lighting produces a distinctive appearance without being flashy or garish
All Velocity Micro desktops are hand built and supported in the USA. To custom configure a system in the new GX3 chassis or to learn more about Velocity's custom gaming PCs, workstation PCs, or home office PCs, visit VelocityMicro.com.
Images https://app.box.com/s/818eq9425bdqv71a9opo
About Velocity Micro
Velocity Micro is the premier high-performance personal computer provider in North America. Founded in 1992, Richmond, Va.-based Velocity Micro custom builds award winning gaming, mobile, multimedia, small business, workstation, visual supercomputers and peripherals. Velocity Micro products are currently available at most consumer electronics retailers nationwide. For more information, please call (888) 300-4450 or visit http://www.VelocityMicro.com
Velocity Micro has earned over 60 industry awards, including 17 PC Magazine Editor's Choice awards. CNET, Maximum PC, Mobile PC, PC World, Computer Gaming World, Computer Shopper, and PC Gamer editors have all chosen Velocity Micro systems as some of the industry's best-performing, highest-quality, and most reliable PCs.