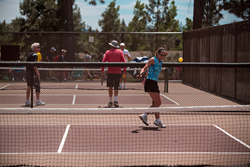 Bend is the ultimate outdoor playground, and this event is an excellent opportunity to showcase the city to a new group of athletes and recreation enthusiasts
Bend, Oregon (PRWEB) December 05, 2014
Registration opened December 1 for the second annual Oregon Senior Games presented by Humana, with a chance for participants to win a free iPad.
Each athlete who registers for the Oregon Senior games by February 1 will be entered in a drawing for a free iPad Mini. The drawing will be held February 2, and the winner notified later that day. The 2015 Oregon Senior Games will take place June 17-21 in Bend, Oregon.
In addition the iPad giveaway, organizers are offering special incentives for seniors who complete the registration process early. Athletes who sign up before February 1 will pay only $25 for their games fee. Between February 1 and May 1, the price will be $30, and after May 1, it will be $35.
"This is a great opportunity for participants to save a little money while making sure a Bend trip is on their agenda this spring," explained Kevney Dugan, Visit Bend's Director of Sales & Sports Development.
The Oregon Senior Games are designed for athletes ages 50 and older, offering a wide variety of sports including shuffleboard, golf, pickleball, cycling, track & field, swimming, and more. The 2015 Oregon Senior Games will include 15 different sports.
Bend's inaugural Oregon Senior Games in 2014 brought more than 500 athletes from across the U.S. The most seasoned competitor was 91-year-old Florence Latter, and two athletes traveled all the way from The Villages, Florida to compete in Bend.
"We're thrilled to host the Oregon Senior Games in Bend again this year," explained Kevney Dugan, Visit Bend's Director of Sales & Sports Development. "Bend is the ultimate outdoor playground, and this event is an excellent opportunity to showcase the city to a new group of athletes and recreation enthusiasts."
Athletes can register and find more information at http://www.oregonseniorgames.com.
About Visit Bend:
Visit Bend is a non-membership, non-profit economic development organization dedicated to promoting tourism on behalf of the City of Bend. We're a leading provider of information on Bend, Oregon hotels, restaurants, activities, and Oregon vacation planning. To learn more or to order a complimentary Official Visitor Guide to Bend, contact Visit Bend at 1-800-949-6086 or visit http://www.visitbend.com.