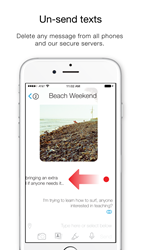 New York City, New York (PRWEB) December 03, 2014
Inbox Messenger today emerged from open beta to unveil its modern messaging app, the first of its kind to upgrade the way people communicate with friends and family on their smartphones for a more personal and natural experience.
Available for free on the App Store and Google Play, the new Inbox Messenger is the lightest, most design-centric and personable messaging app ever. Inbox Messenger features a full suite of features that remove distractions and help users be confident in the solution that they use to connect with the people they care about the most. From un-sending texts, photos and videos and cloaking messages with a flick of the wrist to being notified when a screenshot is taken, Inbox Messenger is mobile conversation, re-designed.
"Inbox Messenger is the first of a new breed of messaging apps that leaves behind an industry that prioritizes competition over its users in favor of a more personal and natural conversation based on behavioral research," explains Maher Janajri, Co-Founder and CEO of Inbox Messenger. "We've taken what we've learned from talking with psychologists and sociologists—intimacy and comfort make for good conversation—to create a modern, less-is-more messaging app. With its emphasis on design and conversation, it will change the way we message."
Key Features:

Design Centric: Light, modern and design-first concept to put focus back on conversation.
Un-send Messages: Instantly delete texts, photos and videos from all devices as well as Inbox Messenger's secure servers.
Privacy Mode: Cloak texts, photos and videos on both devices with a quick shake of the device; remove privacy mode by another quick shake or tap and hold the screen to reveal individual messages.
Doodle Messaging: Draw something and send a replay of the drawing.
Screenshot Notifications: Alerts both users when a screenshot occurs as well as shows what was captured. Android users have a built-in feature to block screenshots entirely.
Share Location: Enables user's location to be shared with friends and family.
Inbox Messenger pivoted from an all-inclusive communication platform to focus solely on re-designing the mobile conversation in the form of a modern messaging app. Following the pivot, New York-based Inbox Messenger closed a $1 million funding round led by a group of angel investors in early 2013. The capital was immediately put to work to expand its world-class team and fuel growth on an international level.
"Ever since our open beta in July 2014, we've been building upon our unique position within the market and have several features we'll be implementing over the coming months," said Janajri. "As excited as we are for our initial launch, we're even more excited to continue melding design with new features to further bridge the gap between technology and personable conversation."
Inbox Messenger was designed to create a comfortable, free-flowing conversation that is as familiar and personal as catching up with a friend. Leaving behind heavy, nonessential features that take focus off of truly connecting on a personal level, Inbox Messenger's minimalist design removes noise and allows users to regain pure, simple and human-to-human conversation.
"We wanted to differentiate aesthetically from the typical messaging apps that are dominated by busy, cluttered design," said Jordi Navarro, Inbox Messenger's lead designer. "We chose a clean white background and a light modern typeface to bring the focus back to simple personal conversation."
Inbox Messenger is available for free on iPhone, iPad and iPod touch on the App Store and for Android devices on Google Play.
About Inbox Messenger
Inbox Messenger re-designs mobile conversations into a personal and natural experience. With a modern, design-first concept, users can un-send texts, photos and videos and cloak messages for ultimate control and privacy. Inbox Messenger was founded in New York City in 2013 by Maher Janajri and Hani Shabsigh. Inbox Messenger is free on the App Store and Google Play. For more information, please visit http://www.inboxtheapp.com.