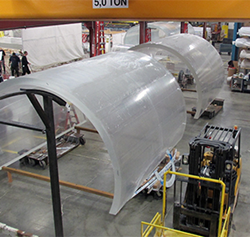 "Our mission right now is to continue to offer a high-quality product and to serve increasing client demand."
Grand Junction, CO (PRWEB) December 03, 2014
Reynolds Polymer Technology, the longtime aquarium builder and creator of R-Cast® acrylic, will enter 2015 with an ambitious agenda. Having broken company records for production and sales in 2014, RPT hopes to expand its footprint yet again in the coming year.
In its US manufacturing plant, RPT has substantially increased the annual amount of monolithic acrylic that it is able to produce. The addition of new tooling and oven capacity have together multiplied the quantity of R-Cast® being finished and allowed for orders to be shipped with less lead time. A sophisticated R&D laboratory has recently been added to further temper quality control and develop next-generation products.
In Thailand, RPT previously announced the opening of a new facility to be used for the manufacturing, research, and development of acrylic products. The new factory, RPTD, is a 3,000 square meter (32,300 square feet) complex that is located in the Siam Eastern Industrial Park in Rayong, Thailand alongside regional neighbors of industry such as Nissan and Honda. A new hydroclave, which came online in early November, has further heightened RPTD's ability to produce acrylic.
"Our mission right now is to continue to offer a high-quality product and to serve increasing client demand," explained Matt Houlihan, Executive Vice President. "We have large projects in Asia, Europe, the Middle East, and South America that require increased output and faster shipping times. We are going to manufacture and deliver our product with more speed and efficiency than ever before."