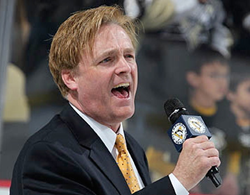 Pittsburgh Penguin National Anthem Singer, Jeff Jimerson
Pittsburgh, PA (PRWEB) December 03, 2014
Heat up the holidays with Entertainment Unlimited's Pittsburgh-famous singer, Jeff Jimerson. Once again playing the B.E. Taylor Christmas Concert throughout the month of December, Jimerson arouses the Pittsburgh crowds to venture out and attend.
Entertainment Unlimited has been the area's largest entertainment agency throughout Pennsylvania, Ohio, and West Virginia; however, this organization has also served nationally. With entertainment ranging from disc jockeys to live bands to comedians and casino games, Entertainment Unlimited's resources seem infinite.
"Jeff is an Entertainment Producer at Entertainment Unlimited and has been for over a decade," said Entertainment Producer Marty Mundy. "He books entertainment, and does what we all do; however, Entertainment Unlimitedly exclusively books him and his band."
Jeff Jimerson is a multitalented individual. With status as the Pittsburgh Penguin's national anthem singer and employment at Pittsburgh's oldest entertainment agency, he holds credibility through the roof. Jimerson is a Pittsburgh legend that knows the industry inside and out.
"When he talks to clients, he has a good perspective on how things should go. All of the little details about the entertainment are recognized since he has been in the industry for so long and understands how it works from the performer's view," said Mundy.
The B.E. Taylor Christmas Concert is a profound event to perform in, let alone attend as an audience member. B.E. Taylor is a Pittsburgher born and raised, and made quite a name for himself, especially during the holiday season.
Because Jeff Jimerson is used to performing for large audiences he is a natural on-stage and a huge draw for the Pittsburgh community to attend the B.E. Taylor Christmas concerts. With December hosting ten shows including Jimerson, Entertainment Unlimited is sure to be proud to call Jimerson one of the team.
Just in time for the holidays, Jimerson has released his new CD. "On The Ice" is a 9-track album loaded with Christmas classics that any household with a stereo would recognize and sing along to.
For more information about Entertainment Unlimited, please visit http://www.entertainmentunlimited.com.
About Entertainment Unlimited:
Entertainment Unlimited serves Pennsylvania, Ohio, West Virginia and all over the United States and offer a variety of top quality entertainment including bands, disc jockeys, national acts, tribute acts, comedians, magicians, hypnotists, casino and theme parties, speakers, novelty entertainment and more. No matter the occasion, Entertainment Unlimited can find the best fit for whatever comes its way.
###