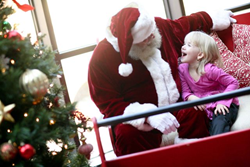 With multiple winter-themed offerings and the recent addition of the Jive & Wail, visitors to Westport will have a memorable holiday experience."- Craig Cobler, Senior Vice President of Development for Lodging Hospitality Management
St. Louis, MO (PRWEB) December 03, 2014
Westport Plaza announces its exciting line-up of holiday events occurring throughout the month of December. From a visit by Santa to New Year's Eve fireworks, Westport Plaza has something for every family this holiday season.
"Each holiday season, we look forward to providing events and attractions that make Westport Plaza a great, family-friendly destination. With multiple winter-themed offerings and the recent addition of the Jive & Wail, visitors to Westport will have a memorable holiday experience," said Craig Cobler, Senior Vice President of Development for Lodging Hospitality Management.
Throughout December, explore Westport under twinkling lights from the back of a horse-drawn carriage each Saturday from 6 p.m. to 9 p.m.
'Santa Claus is Coming to Westport' occurs on Saturday, December 6th, from 10 a.m. to 12 p.m. All families are welcome to join in on fun holiday activities, including face-painting, balloons, live entertainment by DaySpring School of the Arts, and doughnuts from Vincent Van Doughnut. In return, Westport Plaza asks guests to bring an unwrapped gift to be donated to Community Helping Ministries.
Westport Plaza then wraps up the month (and the year) with a family-friendly fireworks display in the outdoor village to celebrate the New Year on Wednesday, December 31st at 6:00 p.m. Free carriage rides will also be available following the fireworks from 6:30 – 9:30 p.m.
Westport Plaza is located at I-270 and Page Ave.
About Westport Plaza
Westport Plaza is a highly recognized 42-acre business and entertainment district in St. Louis. This landmark destination is located at Interstate 270 and Page Avenue and attracts more than 300,000 annual visitors. Westport Plaza has two newly renovated Sheraton hotels and several on-site dining and entertainment options, including: Backstreet Jazz & Blues Club, Bradford's Pub, Drunken Fish, Funny Bone Comedy Club, Fuzzy's Taco Shop (Coming Soon), Jive & Wail, Kobe Japanese Steakhouse, McDonalds, Patrick's Restaurant and Sports Bar, Paul Mineo's Trattoria, Starbucks, St. Louis Bread Company, Trainwreck Saloon and Westport Pizza Company.
For more information Holiday Events at Westport Plaza, contact Alexis Lucente at 314/863-3033 x210. For additional information on Westport Plaza visit westportstl.com.
CONTACT:
Alexis Lucente
Twist
O: 314/863-3033 x210
C: 817/881-8871
alucente(at)twiststl(dot)com