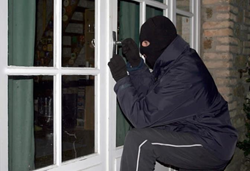 There usually are a lot of thefts and burglaries around Christmas time, both auto and residential burglaries. It just seems to go up around the holidays. Bad guys know people have gifts in homes and cars.
Atlanta, Georgia (PRWEB) December 04, 2014
The holiday season is a time of gift giving, holiday parties and travel, leaving meticulously wrapped packages, electronics and jewelry at home could be an open invitation to an unexpected burglar.
"Home robberies typically rise during the Holiday Season, but by addressing unprotected areas around the home can deter or prevent a break-in," says Thomas McCade, Senior Technician at Security Product Depot. "Following the tips below may point out some possible weaknesses that can aid in the prevention of a residential intrusions."

Burglars are known to check for unlocked doors, windows and open garage doors. Keep them closed and locked at all times. Fortify doors with heavy duty Grade 1 locks that have 3 inch screws in the strike plates and door hinges along with a one-inch throw deadbolt.
Warn family members not to announce holiday travel plans on social media.
Invest in a security system and surveillance signs that let would be burglars know that the home is under the eye of a security camera 24/7.
Purchase a home safe and keep valuables under lock and key.
Keep your car locked at all times and place packages in the trunk or hidden under a throw or blanket.
Leave interior lights on. The exterior should be well lit during the night time hours. Trim shrubs away from windows where burglars can hide.
Install motion sensor lights. Burglars will often leave the premises if they trip the light. It also gives the appearance that someone is home.
Don't leave ladders outside or tools that could be used to climb in a window or smash it.
Don't put off making a list of your valuables along with photos and serial numbers. In the event of a burglary, it will make the insurance claims process a lot less stressful.
The Security Product Depot is an established online provider of physical security products and security information. They are committed to offering a broad array of the latest technology to help their clients protect their assets and property during the Holiday Season and all year long.