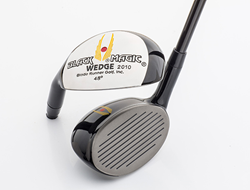 Having confidence with your pitching wedge is particularly crucial because this is one club that can prove to be exceptionally versatile
(PRWEB) December 12, 2014
The pitching wedge is an extremely important club to carry for all players in order to play your best. This is why most sets will include a pitching wedge.
"A pitching wedge traditionally is a 48 degree wedge although some manufacturers pitching wedges utilize as low as 44 degrees, which is around a 9 iron. One thing most golfers would love to be able to do is hit the same yardage consistently with all of their golf clubs on full shots. Wedges although are your scoring clubs where a skilled player can use a pitching wedge for a variety of shots effectively from 100 plus yards to shorter shots that are measured in feet around the green. Clubs from the 9 iron and up are mainly used for full yardage shots," a spokesperson stated.
Having confidence with a pitching wedge is particularly crucial because this is one club that can prove to be exceptionally versatile. By adjusting the face angle a player can hit very high shots in a short distance when needed or adjust the face for a punch and run shot or hit that long approach shots from a 100 plus yards all with the same club. Putting time in practicing with a pitching wedge will be time well spent as your score card will show.
Black Magic Golf has a new type of pitching wedge that was designed with the average golfer in mind. Many golfers have trouble getting short shots in the air quickly with their wedge and on long shots they tend to hit the turf a little early not getting that consistent yardage that was needed to reach the green. Many of these same golfers will not try to experiment with the face angle to see what all can be done with a certain club because of the fear of hitting a shank.
Black Magic Golf has a full line of Black Magic Wedges with a low center of gravity on a hybrid body that naturally gets the ball up quickly. This standard type of iron face on their wedges offer excellent spin and control which is what players are seeking. The hosel of the club is attached to the body so that average players can hit shots like the pros without the fear of hitting a shank. If you are a player that has trouble with standard type wedges, it would be worth your time to visit http://www.blackmagicwedge.com to see how these wedges can help your game.
About:
Black Magic Golf invented a hybrid wedge known as the HWedge with their patented face forward design that Conforms to USGA Rules. The large sweet spot helps to assist with off center shots. Black Magic Hybrid Wedges help golf enthusiasts find new precision with high, soft shots as they make their way onto the green. Black Magic Wedges come in 37⁰, 48⁰, 52⁰, 56⁰, 60⁰ Right Hand Lofts and 56⁰ Left Hand Loft.
Contact:
Brad Cochran, General Manager
Black Magic Golf, 10850 Dover Street, CO 80020 or Call Toll Free 877-799-6099