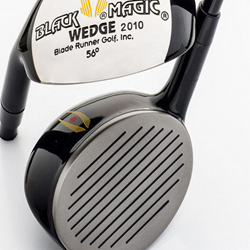 (PRWEB) December 05, 2014
The new Black Magic hybrid golf wedges are designed to give players more control and confidence with the short game without any tradeoffs, experts agree.
The Black Magic hybrid golf wedge will make all short game shots so much easier. This unique sand wedge may be the best club for sand shots for the majority of golfers for many reasons. One of the reasons is the age old theory that a dollar bill is the optimum distance to be in the sand with a standard type sand wedge which means entering the sand approximately 2-1/2 inches behind the ball. With these sand wedges, there are no penalties if a player enters the sand as much as 8 inches behind the ball.
BlackMagicWedge.com patented hybrid wedges have a face free hosel design which eliminates shank shots. The leading edge wraps entirely around the heel of the club so that any skill level of player can have the confidence of laying the face open for various types of flop shots without shanking.
Many pros including Dave Pedersen, a PGA Golf Professional who has tested many clubs for Rankmark, has tested these golf wedges and states, "the design of these hybrid wedges will help all golfers get the ball up faster, and land softly; and with all of my testing of clubs, I would rank the Black Magic Wedges as very user friendly."
Black Magic Wedge's hybrid body offers a low center of gravity that naturally gets the ball up faster along with an iron face for powerful spin and control which Conforms to USGA Rules. This new technology makes these wedges not only the best club for sand shots but any type of short game shots.
About:
Black Magic Golf invented a hybrid wedge known as the HWedge with their patented face forward design that Conforms to USGA Rules. The large sweet spot helps to assist with off center shots. Black Magic Hybrid Wedges help golf enthusiasts find new precision with high, soft shots as they make their way onto the green. Black Magic Wedges come in 37⁰, 48⁰, 52⁰, 56⁰, 60⁰ Right Hand Lofts and 56⁰ Left Hand Loft.
Contact:
Brad Cochran, General Manager
Black Magic Golf, 10850 Dover Street, Suite 500, Westminster, CO 80020 or Call Toll Free 877-799-6099