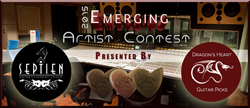 This is an incredible opportunity for anyone looking to prove their talents in the music industry and refine their skills!
Fort Worth, TX (PRWEB) December 03, 2014
Want to start the new year as a signed artist? Here is your chance. The 2015 Emerging Artist Contest, presented by Dragon's Heart Guitar Picks and Septien Entertainment Group and brought to you by Wired SEO, will give one artist (or group) the opportunity of a lifetime.
Founded by Linda Septien, Septien Entertainment Group is a world-renowned artist development facility, based in Carrollton, Texas. Specializing in music training, it is the home of artists such as Selena Gomez, Demi Lovato, Forever The Sickest Kids, and Jessica Simpson. Their accomplished instructors help artists develop in a range of categories from vocal and guitar lessons to songwriting and stage performance. Linda's success has lead her to become one of the most sought after vocal coaches in the United States.
Dragon's Heart Guitar Picks by C. Whitney Guitars is an innovative guitar pick company based in Fort Worth, Texas. Former Marine Corey Whitney has developed a pick to help bring your guitar playing skills into the 21st century and beyond with its ingenious, three-edge design. Featured in the November 2014 issue of Performer Magazine, Dragon's Heart Guitar Picks is sure to be in the hands of every guitar player soon.
The 2015 Emerging Artist Contest was created to help one lucky artist take their music to the level. The grand prize winner will receive a lifetime supply of Dragon's Heart Guitar Picks, 6 months of Artist Development training with Septien Entertainment group, opportunities for live performances, and a chance to be signed. The Contest webpage is currently open for up and coming artists to submit their original song. The submission process will end at midnight on December 14, 2014.
How to enter:
1. Read the Official Rules and Guidelines.
2. Upload your song to Youtube.
3. Fill out the contest form with your song's Youtube URL on the Contest Page.
Voting will begin on December 15th, 2014. Entrants will have two weeks to gain as many votes as possible for their song. The top 5 songs with the most votes will then be reviewed by a group of Top Music Industry Professionals. One grand prize winner will be chosen by the group and given the title as the Emerging Artist of 2015.
For any additional questions, please contact clint(at)dragonsheartguitarpicks(dot)com.