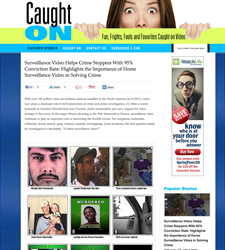 "If visible, home surveillance video cameras are an important deterrent in residential break-ins… a critical investigative tool for police after the crime." Maureen Campbell, iWatchLife
Toronto, Canada (PRWEB) December 03, 2014
In this week's Caught On Video, the popular online video magazine spotlights the growing role of surveillance video in deterring and investigating crime. Crime rate declines of 51 per cent in public parking lots and 7 per cent in city centers and public housing have been attributed directly to video surveillance, according to the Justice Quarterly report. [1]
Organizations such as Crime Stoppers and the police are able to improve their effectiveness with the help of surveillance videos in homes. Currently on the Southwest Crime Stoppers website [2] there are dozens of unsolved crimes caught on video, including many homicides, burglaries, attacks and even cases of child abuse. Tips brought in carry a reward of up to $1,000. Each of the many Crime Stoppers websites displays numerous videos of unsolved crimes. They claim a conviction rate of 95 per cent on tips received.
In the Caught On feature, the online magazine highlights several homicides, a bank robbery, a home invasion, and burglaries—videos posted on the popular Crime Stoppers websites that lead to tips with high conviction rates.
In one video, Caught On focuses on a broad daylight home break-in, an unsolved crime, caught on home surveillance.
"If visible, home surveillance video cameras are an important deterrent in residential break-ins. In addition, the recorded evidence is a critical investigative tool for police after the crime," explains Maureen Campbell, Director of Marketing and Communications at iWatchLife, a do-it-yourself home security monitoring service. "Investigators routinely ask if there is available surveillance video footage at crime scenes. They also look for cameras in the neighborhood in hopes to find the getaway car or accomplices."
Now that surveillance video is so pervasive, Caught On reports the big issue is "the sheer magnitude of video captured." Homeland Security Research estimates total hours of captured surveillance video will be 3.3 trillion hours by 2020.[3] It will simply take too many person-hours to comb through all of that video and decide what is important.
The latest technologies in home surveillance make this less of an issue, though. When "smart" cameras are combined with intelligent surveillance services, they can be programed to activate only when needed instead of filming continuously when nothing significant is happening. Ms. Campbell of iWatchLife explains: "Smart technology such as iWatchLife's Activity Recognition feature, filters out meaningless activity. This makes it easier for investigators to find the relevant images, because there isn't a surplus of unimportant video to review."
Police, together with tip organizations such as Crime Stoppers, rely on surveillance video to help solve crime when deterrence is not enough; 95 per cent of these tips lead to convictions, according to Crime Stoppers.
Watch these videos and read more>>
About Caught On!
Caught on video! Caught On website showcases those special, fun, scary, candid, freaky moments captured by home and business security cameras, street cameras, surveillance videos or cell-phones.
Pervasive cameras have changed our world. We are more secure today because of them. We also capture more of life's treasured moments thanks to cameras everywhere. Our phones have cameras. Street corners, stores, businesses and subways all have them. Increasingly, more and more homes have them—and not just at the door for security, but throughout the house.
[1] "Public Area CCTV and Crime Prevention: An Updated Systematic Review and Meta-Analysis" Welsh, Brandon C.; Farrington, David P. Justice Quarterly, October 2009, Vol. 26, No. 4.
[2] Southwest Florida Crime Stoppers
[3] Homeland Security Research