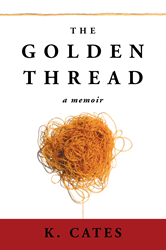 I lost my son, my marriage, my job, my money, most of my friends and almost lost my faith.
LOS ANGELES (PRWEB) December 04, 2014
Losing a child is never easy. It can put a parent's entire life on hold, paralyzing you with guilt and grief.
In the case of K. Cates, a car accident with her at the wheel left her son dead while her daughter survived. She transformed the tragedy of her experience into a book, "The Golden Thread", so that others might benefit from her candid account of the events that followed.
"I lost my son, my marriage, my job, my money, most of my friends and almost lost my faith," said Cates. "Since then, I've come to realize how much is to be gained in the struggle to continue forward with life."
Cates tells a heartbreaking true story with a message of hope and growth perfect for anyone who has struggled or felt profound loss. "The Golden Thread" is a no-holds barred account of one woman's spiral of grief and triumphant journey of redemption.
As a motivational speaker for women's empowerment, Cates is experienced in sharing her compelling story to help others face their own personal challenges. She hopes to combine her efforts with her book to turn a tragedy into a way to bring hope.
"For those out there who are continuing to carry a burden of guilt and pain: know that you are not alone, and that you will find purpose through the adversity," said Cates.
The Golden Thread
By K. Cates
ISBN: 978-1-48081-147-8
Available in softcover, hardcover, e-book
Available on Amazon, Barnes & Noble and Google Books
About the author
K. Cates is an author, blogger, motivational speaker and award-winning singer/songwriter. She was raised on faith, family and music in the Midwest. With audiences from bookstores to stadiums, her brave authenticity is disarming. She focuses on her relentless pursuit to provoke purpose through adversity.
# # #
For review copies or interview requests, contact:
Craig Cainkar
(317) 602-7137