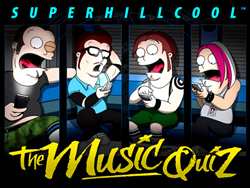 SuperHillCool is ready to rock your iPhone!
Las Vegas, NV (PRWEB) December 03, 2014
Las Vegas based and Italian influenced production company Tuttipazzi Inc. has launched a campaign on Kickstarter.com to raise money for a groundbreaking new mobile app. SuperHillCool: The Music Quiz is a new kind of game currently being developed for iOS and Android that will exceed all expectations of trivia games. Rather than focusing on one topic or genre of music, this app delves deep into several genres of music spanning from Hip Hop to Metal and includes several different modes and challenges to play. Following the fictional band SuperHillCool and based on an Italian comic book, the user attempts to answer questions correctly to help the band progress from their rehearsal space and local clubs to a major recording contract and playing the largest venues in the world. As the user gets further along in the game, they earn more money and the ability to buy new instruments, better vehicles to travel to better venues, and the chance to add new band members.
As avid music lovers and gamers, the development team at Tuttipazzi is committed creating the most in-depth and engaging quiz game ever but needs some help to get the game ready for launch. After years of progress, the app is currently in the final stages of development for iPhone and the team is looking for support to expedite this process so the game can be completed by the end of Summer 2015.
https://www.kickstarter.com/projects/tuttipazzi/superhillcooltm-the-music-quiz-ios
https://www.facebook.com/SuperHillCool