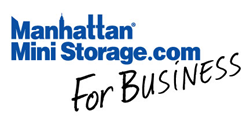 "...the best-kept secret for many business-owners and managers in Manhattan for years." - Stacy Stuart, Executive Vice President of Marketing and Human Resources
New York, NY (PRWEB) December 04, 2014
Manhattan Mini Storage, long a favorite among New York City apartment dwellers as a means of uncluttering their living space, is now expanding their business storage services to accommodate a growing need for commercial space in the Big Apple.
With business storage units ranging from 50 to 2,500 square feet, the company recently added free Wi-Fi to the lobbies of all their 17 Manhattan locations, outbound package shipping – including UPS, FedEx and DHL drop-boxes – a full range of customizable shelving, including complimentary shelves and hanging rods, electricity available on select-size units and unlimited rides and priority reservations on their free "Storage Taxi" – an oversized minivan that transports customers and their belongings to and from their storage space.
That's in addition to Manhattan Mini Storage's existing services and perks – such as oversized loading docks and elevators, no-fee on-site parking and complimentary package acceptance.
"We feel like we've been the best-kept secret for many business-owners and managers in Manhattan for years," said Stacy Stuart, Executive Vice President of Marketing and Human Resources for Manhattan Mini Storage's parent company, Edison Properties. "They use us for everything from file and record storage to inventory warehousing to storing supplies and equipment. So we're really responding to the needs of our existing customers while also reaching out to new clients from New York's business community. We want to let them know how much easier we can make running your business."
Stuart also pointed out the importance of having a storage space that's close to your office or storefront and accessible around the clock. "We have 17 Manhattan locations, stretching all the way from Inwood to the Seaport," she said. "All of them are open 365 days a year, many 24 hours a day. The rest have extended business hours, from 7AM to 10PM. So in a city like New York, where people work night and day, we're ideally suited for business storage clients. If you need to retrieve merchandise from your storage room at midnight on a Saturday, that's not a problem for us."
Manhattan Mini Storage also boasts a number of other business-friendly features to their commercial customers, including their "EasyPay" automatic payment plan and "KeepSafe" storage protection plan, online account management, on-site print, copy and fax services, temperature-controlled facilities and building security with alarmed units. Anyone looking for business or personal storage can call the company's 24-hour hotline at 212-STORAGE and speak to an expert Storage Advisor.
You probably know them from their subway ads, but Manhattan Mini Storage is a lot more than funny slogans. They were the first self-storage company in Manhattan, opening their doors in 1978. They provide a full range of products and services to meet all their customers' moving and storage needs and offer a complete package of no-fee perks, including off-street parking, package acceptance, hanging rods and shelves, Wi-Fi in the lobby and their famous Storage Taxi, which picks up customers and their belongings anywhere in Manhattan. With 17 locations, Manhattan Mini Storage has become the neighborhood moving and storage solution for over 250,000 New Yorkers.
For more information about Manhattan Mini Storage, visit http://www.ManhattanMiniStorage.com.