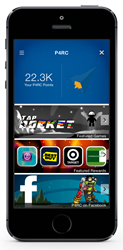 P4RC's SaaS based platform is being leveraged to drive engagement and reward this changing behavior.
Los Angeles, CA (PRWEB) December 03, 2014
P4RC, Inc., which operates the leading SaaS platform to incite loyalty in mobile apps and games, announced today that it has formed a strategic and technical alliance with Airborne Media Group, creators of Audioair®. The alliance teams the patented technologies of each company to transform interactive television in commercial and public venues through the integration of P4RC's private label loyalty and rewards program with Audioair's interactive television experience. The landmark alliance is exclusive and aims to redefine the way digital displays are used in commercial and public venues by rewarding viewer engagement.
As part of the exclusive partnership, Airborne Media Group will integrate P4RC's private label reward and redemption platform and community building programs as a critical engagement, retention, and monetization feature of its award winning Audioair® technology and it's emerging, cloud based interactive networks. The alliance will initially target sports bars, restaurants, health clubs, casinos and universities, all of which have installed millions of digital screens worldwide. P4RC will also provide a number of interactive games ready for the casino gaming industry with cross branded rewards programs designed to drive engagement with the Audioair mobile application.
"For the first time ever mobile device users will be able to listen to muted screens, vote on preferences, interactively game and connect with brick and mortar establishments creating new social communities, and with P4RC's programs, we will be able to carefully reward this behavior which in turn will drive engagement," said Cordell Brown, Airborne's CEO.
"Billions have been spent by businesses and public venues to improve the on premise customer experience or for the dissemination of vital information by investing in hundreds of millions of digital displays, and Audioair is asking mobile device users to change their behavior to fully realize the benefits of that global wide investment," said Michael Rubinelli, P4RC's CEO. "This is a true demonstration of disruptive technology, and P4RC's SaaS based platform is being leveraged to drive engagement and reward this changing behavior, as well as create a new behavior. Every time someone uses Audioair or any of its private branded network partners sharing the same cloud based services, they will earn or win something through P4RC."
About P4RC, Inc.
P4RC (pronounced park) is a patented SaaS platform that incites loyalty in mobile apps and games. P4RC's platform is live in more than 400 apps and has been proven to significantly increase user engagement, retention, cross-promotion and monetization. To learn more about P4RC, please visit http://www.p4rc.com. Follow P4RC on Twitter (@p4rcinc) or Facebook (facebook.com/p4rcinc). The official P4RC app is available at http://www.p4rcapp.com.
About Airborne Media Group, Inc. and Audioair
Airborne Media Group, Inc. launched in Durango, Colorado in late 2010 with a simple yet powerful idea that a Smartphone could be used to selectively listen to television displays that required their audio output be muted for practical noise considerations. The idea expanded to include other interactive activity between the mobile device and the socially shared screens. The Company has been running pilot locations in a number of commercial venues around the country and has recently gone to market with its commercial product and service suite based on its patented technology. For more information on Airborne Media Group and Audioair, visit audioair.com, audioair.net, http://www.airbornemediagroup.com and follow us on Twitter (@audioairnation).