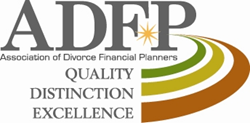 As the ADFP grows in membership and divorce financial planning grows as a profession, our annual conference reflects and enhances that growth, in terms of the depth, quality and professionalism of the presentations, ~ Andrew Samalin
EAST NORTHPORT, NY (PRWEB) December 04, 2014
According to Andrew Samalin, president of the ADFP, this year's conference built upon the dynamic learning environment established in prior ADFP conferences. Highlighting the quality, distinction and excellence of the Association and its members continues to be the driving force behind the conference agenda. "As the ADFP grows in membership and divorce financial planning grows as a profession, our annual conference reflects and enhances that growth, in terms of the depth, quality and professionalism of the presentations," said Samalin. "The joint conference day with the APFM further highlights the evolution of our profession, as divorce mediators now recognize the integral and incomparable role divorce financial planners play on the divorce team."
Justin Reckers, CFP®, CDFA™, AIF & Sandi Gumeson, CPA, CDFA™, presented an in-depth pre-conference Institute on the ins and outs of a successful divorce financial planning practice. Carl Palatnik, Ph.D., CFP®, CDFA™, AAMS, President of Divorce Analytics, Inc., gave the keynote address and was honored by the ADFP with its prestigious Pioneering Award. Mr. Palatnik is one of the ADFP's founding members and serves as the Association's Founding President Emeritus, as well as member of the Board of Directors.
Other presenters included Ginita Wall, CPA, CFP®, CDFA™, co-founder of WIFE.org and originator of the Second Saturday workshops, who discussed tax issues to be aware of in divorce, and how to avoid tax pitfalls. Lili Vasileff, CFP®, CDFA™, President Emeritus of the ADFP, discussed key considerations for working with high net worth clients in divorce. Andrew Samalin, CFP®, EA, CDFA™, President of the ADFP, gave a presentation on the many considerations for dividing real estate in divorce. Stacy Francis, CFP®, CDFA™, Cary Stamp, CFP®, CDFA™, and Lisa Decker, CDFA™, provided tips for marketing and growing your divorce financial planning practice. Many other thought leaders in the fields of divorce financial planning and divorce mediation gave insightful and informative talks and presentations.
About the Association of Divorce Financial Planners:
The ADFP is an interdisciplinary association of professionals who research and analyze personal and business financial issues, as well as tax implications, related to divorce. The association develops outreach programs, and training and continuing education opportunities for financial practitioners, allied divorce professionals and the general public. The organization plays a key role in policy making regarding divorce financial issues. The ADFP holds its members to high standards in professional and ethical protocols in the U.S., Canada and other countries. Comprehensive information on the ADFP can be found at http://www.DivorceAndFinance.org
The mission of the ADFP is:
•To heighten awareness of the benefits and the added value of divorce financial planning so that it becomes an integral part of the divorce process.
•To encourage knowledgeable and trustworthy financial professionals to enter the field.
•To continuously refine and maintain practice and professional standards of excellence and a strict code of ethics.
•To build professionalism.
•To unify the divorce financial planning profession.
Information on the ADFP, including resources, upcoming events, and criteria for and benefits of membership can be found at http://www.divorceandfinance.org.