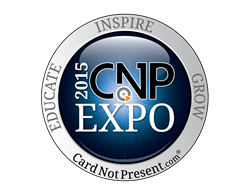 Newburyport, Mass. (PRWEB) December 03, 2014
CardNotPresent.com today announced registration is open for the 2015 CNP Expo taking place May 18-21, 2015 at the Caribe Royale Orlando. The new venue boasts 50 percent more exhibit-floor space than the 2014 CNP Expo to accommodate the event's explosive growth. Sixty-five percent of that space has already been reserved six months in advance of the show. Attendees can register now at https://cardnotpresent.com/registration/ at the reduced early-bird rate.
At $500 for merchants and $1,000 for vendors, there is no other show in payments that delivers as much value. Many attendees are choosing to register early to apply remaining 2014 budget to get a leg up in 2015. These rates will not last long into the New Year.
The educational lineup at the CNP Expo remains the strongest in the business with more than 30 sessions on the most important topics in CNP payments taking place over two and a half days, along with the popular pre-conference Boot Camp and Grad School at no extra charge. This year, a separate track of content has been added (again, at no additional cost) consisting entirely of case studies where merchantscan learn how merchants have attacked the challenges of accepting card-not-present payments in real-world environments.
Learn more about the 2015 CNP Expo and click here to register.