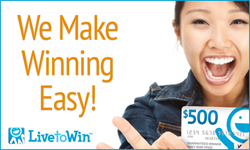 Waltham, MA (PRWEB) December 04, 2014
Live to Win announced today that they will be awarding $100,000 to one lucky winner at midnight on New Year's Eve. Live to Win has seen tremendous growth and engagement with their iPhone and Android app and wanted to reward its customers by offering this generous prize.
"Our customers love that we give away a $500 prize every day," said Jim Miller, CEO of Live to Win. "Live to Win is fun and easy to use and there is a guaranteed winner every day. What's not to like? The year end $100,000 prize ups the ante for our customers and promises to keep them on the edge of their seats as we get closer to the new year."
Live to Win is a free mobile app that launched last year. Users can come to the app every day and receive their free entry. They can also take fun polls, download new apps, and do other fun activities to earn more entries. Every day at noon ET, Live to Win announces the winner of that day's prize and then introduces the next day's prize.
Recent daily prizes have included a Kindle Fire, a Dyson vacuum, a Samsung LED flat screen HDTV and a $500 gift card from Target. Winners can either choose the prize or choose to receive $500 in cash instead.
If you entered Live to Win's Daily $500 Giveaway you are automatically entered into the $100,000 Sweepstakes. There is a guaranteed winner who will be announced at midnight on New Year's Eve.
"$100,000 will change someone's life forever," said Jim Miller, "It might let them pay off their mortgage or go back to college. Whatever it might be, I look forward to delivering the good news." Last year's winner was Heather Waltrip from Radcliff, KY, and it truly was a life changer for her.
…………………………………
About Live to Win
Live to Win is a mobile application that allows people to earn entries into a daily sweepstakes drawing. It's simple and fun!
For more information, visit http://www.livetowin.com. To download the application, visit http://bit.ly/LiveToWinSweeps on iPhone and http://bit.ly/LiveToWinAndroid on Android.