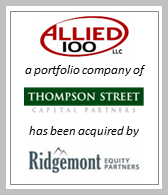 Charlotte, NC (PRWEB) December 03, 2014
BlackArch Partners is pleased to announce the sale of Allied 100, LLC ("Allied" or the "Company"), a portfolio company of Thompson Street Capital Partners ("TSCP" or "Thompson Street"), to Ridgemont Equity Partners. Headquartered in Woodruff, Wisconsin, Allied is a leading, value-added distributor of automated external defibrillators ("AEDs"), AED supplies and accessories and a provider of medical direction software and training services.
BlackArch was retained by Thompson Street Capital Partners and management to serve as their exclusive financial advisor. Allied is BlackArch's second recent advisory assignment for Thompson Street, following the 2012 sale of Barcodes Inc. to Cortec Group.
The sale of Allied marks the twelfth distribution transaction completed recently by BlackArch and the second tech-enabled distribution platform in the last three months, highlighting the firm's significant momentum in the sector. Allied joins a long list of distribution clients served by the firm's professionals, the most recent of which are Tri-Ed Distribution, Inc. and The Hercules Tire & Rubber Company.
About Allied 100
Founded in 2002, Allied (http://www.aedsuperstore.com) operates a customer care and distribution center in Woodruff, Wisconsin, with an office in San Francisco, California. Serving more than 35,000 customers in 2013 across commercial, government and home markets, the Company offers AEDs from all 7 FDA-approved manufacturers. Allied also provides AED replacement parts and accessories and a proprietary, SaaS-based medical direction software, Arch, for AED program management.
About Thompson Street Capital Partners
Thompson Street Capital Partners (http://www.tscp.com) is a St. Louis-based private equity firm that invests in service, distribution and manufacturing businesses via recapitalizations, management buyouts, corporate divestitures and family businesses in transition. Founded in 2000, TSCP has managed more than $800 million in private equity capital and is currently investing its third fund. TSCP partners with management teams to increase value by accelerating growth, both organically and via complimentary acquisitions.
About BlackArch Partners
BlackArch Partners is a leading middle-market investment bank offering a full spectrum of advisory services to financial sponsors, private companies and diversified corporations BlackArch addresses the needs of entrepreneurs, founders and shareholders of private companies with specialized services that include M&A advisory, strategic advisory and private capital solutions. Headquartered in Charlotte, NC, with offices in Houston, TX, BlackArch features a total of 12 industry-focused practices that cover all sectors of interest to middle-market investors; BlackArch professionals have closed over 300 transactions in 16 countries on four continents. Please visit our website, http://www.blackarchpartners.com, for more details.
Securities offered through BlackArch Securities LLC. Member FINRA and SIPC.