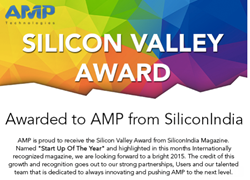 Co-Founder and CEO of AMP Technologies Neel Naicker shared, "What makes our platform unique is that it's built from the User's perspective. We've made it simple yet innovative utilizing the best-of-breed technology in the enterprise space."
Silicon Valley, CA (PRWEB) December 03, 2014
AMP Technologies has completely digitized investments and assets in Commercial Real Estate. Positioned To Lead The Industry with advanced solutions, AMP continues to set the standard in Commercial Real Estate. This Thursday, December 4th Neel Naicker, CEO and Co-Founder will be presenting with other leaders from the industry on Top Technology Trends at the Real Estate Conference with the prestigious NYSSCPA – attendees will hear first hand why AMP is viewed as a technology innovator.
The Highly Recognized Real Estate Conference – CLICK HERE
Simplicity is at the core of their commitment to excellence, AMP brings best-of-breed performance with speed and accuracy to deliver intuitive and innovative solutions. AMP's end-to-end operating platform seamlessly reports key metrics in real-time to provide ultimate performance for the best business outcomes. Providing Users with a competitive edge by delivering access to key financial performance, operational excellence, revenue and lease/tenant health.
Dramatically "AMPlifing" User's net operational incomes through deep insights that enable a stronger relationship with their tenants and investors by anticipating business needs. Silicon India Magazine writes, "It is no wonder AMP's innovative platform renowned for surpassing expectations grabbed the attention of recognized industry leaders and the company vigorously expanded with over 200 employees, in such a short time." Sabeer Bhatia, Co-Founder of AMP Technologies adds, "We have a strong vision of connecting people with relevant tools so they can achieve excellence. Our focus is creating capabilities people may not think are possible so they can reach their top level of success. I'm so proud of our team in India and how each day they contribute to making a real impact in Commercial Real Estate and beyond in the international business world. This is what India Silicon Valley represents, achieving the impossible to make a true difference."
View The Article From Silicon India Magazine – CLICK HERE
AMP was also recently covered in Zillion Magazine, an international magazine that offers comprehensive coverage of trends, technological developments and strategic issues in international business across a number of industry verticals. In this issue Co-Founder and CEO of AMP Technologies Neel Naicker shared, "What makes our platform unique is that it's built from the User's perspective. We've made it simple yet innovative utilizing the best-of-breed technology in the enterprise space."
View An Executive Preview – CLICK HERE
Their recent New Release Centaurus, was built to position organizations for greater growth opportunities. There is Immediate Accountability added for all levels and Roles across the organization around Key Performance Metrics. The advanced User Interface delivers Deep Insights on Clients and Tenants that help deliver increased Net Operation Income.
AMP continues to see top Commercial Real Estate organizations request to sign up for their innovative platform and utilize their cost effective service offerings around due diligence, property accounting, lease administration, asset management and data standardization. AMP combines best-of-breed performance with speed and accuracy. The company is built on what clients need to make their job easier – simplicity is at the core. Intuitive and innovative solutions drive a profitable business; this is what AMP delivers.
Visit AMP Technologies – CLICK HERE
Headquartered in Mountain View, California, AMP Technologies provides a suite of products and services for commercial real estate asset management. The AMP Technologies Platform is a powerful, yet highly intuitive, platform to monitor and manage individual properties and large portfolios. Its products are built on best-of- breed cloud technology and are designed for the modern enterprise to provide sophisticated business intelligence, collaboration and management tools. With a comprehensive, yet highly intuitive, platform for monitoring and managing individual properties to entire portfolios, AMP provides the key tools needed for every level of management for effective analysis and decision-making.