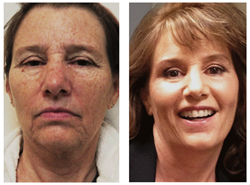 Austin, TX (PRWEB) December 03, 2014
Good Day Austin viewers will learn the "Secrets Of Looking Ten Years Younger" as Dr. Tess Mauricio, "America's Favorite Dermatologist" visits the morning show on Friday, December 5th, to introduce the Time Machine Procedure℠, a revolutionary skin treatment process that is customized to each person's skin type and color. "The Time Machine Procedure℠ combines multiple treatments to address everything that happens to our skin with aging, taking on fine lines and wrinkles, skin deterioration, sun damage, sagging, and loss of volume," says Dr. Tess. "Men and women emerge looking as though they have 'turned back time' 10 years or more thanks to this non-surgical process."
 
Dr. Tess is visiting Austin to certify a group of new Time Machine Procedure℠ practitioners. On Good Day Austin, Dr. Tess will show how the Time Machine Procedure treatments are done and share patients' amazing before and after photos. She will also offer tips on taking better care of your skin to help slow the aging process.
 
"My husband was complementing me and saying how young I looked, and it's nice because he's four years younger than I am," says one Time Machine Procedure℠ patient. Jennifer, another happy patient shares, "It's amazing! The youthful look I have, the freshness."
 
"Each person's skin condition and color is analyzed and a customized treatment plan is created," says Dr. Tess. "Using a flexible combination of cutting edge devices and advanced biological applications, the Time Machine Procedure℠ can bring back the skin to appearing a decade or more younger -- all without going under the knife or putting up with weeks of downtime. Facial volume is restored while customized treatments for fine lines, wrinkles and sun damage are combined into the process."
 
Dr. Tess says the Time Machine Procedure℠ is safe for all skin types. "It's the preferred anti-aging treatment for international celebrities such as Marla Maples and Black Eyed Peas' Apl de Ap, among others." 
For information on the Time Machine Provider and to locate a local practitioner visit http://www.TimeMachineProcedure.com and call 800.759.6876.
 
More about Dr. Tess Mauricio:
Dr. Tess Mauricio is a Board Certified Dermatologist, graduate of Stanford University School of Medicine, and a Summa Cum Laude graduate of The University of California San Diego. She is the founder of M Beauty by Dr. Tess with multiple clinics in California, and is the youngest woman to hold the position of President of The San Diego Society for Dermatologic Surgery. She is a published author with a book called "California Total Beauty," renowned speaker, sought after media personality, and has educated thousands across the globe on technologies she has helped pioneer, including the Time Machine Procedure℠. 
 
About Eclipse Aesthetics:
Eclipse Aesthetics is the largest and most successful privately held cosmetic distributor of aesthetic equipment and cosmetic supplies in the United States. The targeted customers for Eclipse are dermatologists, plastic surgeons. (core only) 
 
Eclipse Aesthetics has partnered with renowned dermatologist Dr. Tess Mauricio to train and certify dermatologists across the United States and around the world in the revolutionary Time Machine Procedure℠, an extraordinary combination of state-of-the-art technologies that take on age-related issues including aged skin, sun damage, wrinkles, sagging and loss of volume. This customizable process helps patients appear like they have traveled back in time, emerging how they looked 5 to 10 years earlier after only a few sessions.