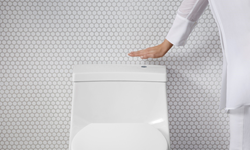 We believe that the healthy home is the next frontier in home renovation," says Neil Kelly President, Tom Kelly.
Portland, OR (PRWEB) December 03, 2014
Neil Kelly Company, an award-winning design-build remodeling firm, announces its Top 8 interior design trends for 2015. A trend is not a fad. A trend veers in a new direction. A fad fades fast. A trend shows a social tendency. A fad shows that…whoever fell for it…has more dollars than sense.
So, when the 25 design consultants at the Neil Kelly Company weigh in on what's new for your home in 2015, they are talking about 2015 design trends—not fads. So, as tempting as it is to include cute, funky little gadgets that are better suited to late night TV hawkers, Neil Kelly will stick with the 2015 design trends that will last through and well past 2015.
Presenting the Great Eight Design Trends of 2015:
Trend #1: The Next Frontier (see photo #1, photo credit Kohler)
According to the world's leading platform for home remodeling and design, Houzz.com, nearly half of us remodel to prevent potential health problems. So this trend is more anesthetic than aesthetic. "We believe that the healthy home is the next frontier in home renovation," says Neil Kelly President Tom Kelly. "Remodelers have a critical role to play in helping people make changes—large and small—to improve their home environments."
Whether it's non-offgassing finishes, no-formaldehyde cabinets, or better air filtration systems, homeowners realize a benefit to the family in creating a healthy living space. Take this notion one step…or flush…further and you'll discover Kohler's SanSouci Touchless Toilet. That's right, to flush this water closet you just wave your hand over the toilet—no touching required.
Trend #2: Creature Comforts (see photo #2)
Some creature comforts never go out of style, and many see technological improvements over the years. That's the case with heated floors in the bathroom. "It gets pretty cold in Central Oregon, so my clients here often want heated floors," says Kathleen Donohue. "And these clients took it a step further and added an increasingly popular feature—a heated towel rack."
Trend #3: Reduce, Reuse, Re—birth? (see photo #3)
Talk to any sustainability expert and at some point during the conversation you'll hear the phrase "life cycle." It's not necessarily an extreme concept, the products Neil Kelly uses have their own life cycle. Some are long, like brick. Some are short, like fast food. And some never die. Here's an example. Viridian is a Portland, Oregon company that takes beautiful old wood, saves it from the landfill, and re purposes it as a raw material that some Neil Kelly designers are known to gobble up. "When shipping containers make their way from Asia they look pretty rough, but with a little sanding beautiful colors and grain patterns appear," says Neil Kelly Design Consultant Karen Richmond. "It's versatile, bursts with personality, and it's wood we wouldn't normally have available to work with."
Trend #4: Remodel vs Move (see photo #4)
Maybe the recession taught us something. Or maybe people would rather scratch their fingernails on a chalkboard than move. Either way, an emerging housing trend is that more and more folks are opting to remodel their existing home than move to a new one. In other words, they'd rather "love it" than "list it". This Neil Kelly whole home remodeling project (see photo 5) is a great example.
Here, homeowners asked Neil Kelly Designer Karen Richmond to change the entire orientation of their home to take advantage of the existing view. "It made more sense for them to stay and use the fantastic property they already owned, instead of hunting all over and paying top dollar to find another piece of land," says Karen. Clearly every situation is different, but as a trend many sources confirm that more folks are discovering it's cheaper and more satisfying to stay than go.
Trend #5: Heavy Metal (see photo #5)
From copper pendant lighting to cast bronze sinks (like the one pictured), metal is making rounds in the home for 2015. "Shades and tones of copper are in the mix," says Neil Kelly Design Consultant Heidi Hawk. "I love working with multiple mediums as it brings out the artistic side of design."
Trend #6: And The Winning Color Is…." (see photo #6)
Neil Kelly designers actually despise having to pick one color for a year, because usually there are a whole host of colors that catch our eyes. "We're seeing light blues and greens becoming increasingly popular, says Neil Kelly Design Consultant Karen Richmond. And here's a little color tip straight from Neil Kelly Seattle Design Consultant Diane Foreman: "If you want to know what the hot colors are going to be in the coming year don't go to the paint store, go to Bed, Bath, and Beyond—or any store that sells bath towels," she says. "They will start stocking new towel colors long before those colors show up in the paint stores. Retail has to be way ahead of the game."
Trend #7: Contemporary Comeback (see photo #7)
Four hundred designers couldn't be wrong, right? Well, sure they could, but not about this trend. According to the National Kitchen and Bath Association's style report, hundreds of designers agree there is a move toward simplicity in a cleaner, more contemporary design. Say goodbye to rustic and hello to a more minimalist modern groove. This bathroom (photo 2) may be situated near the woods of Battle Ground, Washington, but it looks right at home in mid-town Manhattan. "Our client wanted a serene sanctuary—a place that was soothing but not cold," says Neil Kelly Design Consultant Sandi Erdman. "Most people who are looking for contemporary design are looking for a clean, pared down look that is minimalist yet beautiful."
Trend #8: Transitional over Traditional (see photo #8)
A few years ago raised panel cabinet doors were all the rage—they were everywhere. Now, flat cabinet panels are in. "And that's probably the biggest component in that design shift," says Neil Kelly Design Consultant Janel Campbell. "I think people have so much going on in their daily lives that when they get home they are looking for a peaceful atmosphere with less clutter—fewer lines—and less stress."
About Neil Kelly Company
Neil Kelly Company, the largest residential design-build remodeling firm in the Northwest, helps homeowners care for all aspects of their homes. Services include custom homes, award-winning design-build remodeling, energy upgrades and home repairs big and small.
Neil Kelly is proud to be a certified benefit company (B Corporation) and seeks to be a caring corporate citizen in everything that it does. With five Pacific Northwest locations in Portland, Lake Oswego, Eugene, Bend and Seattle, Neil Kelly is renowned for its innovative design and remodeling services, quality craftsmanship and sustainable building practices. Homeowners are invited to visit Neil Kelly design centers or attend free educational workshops. Visit http://www.neilkelly.com.