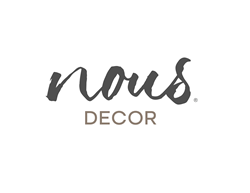 After years of bright geometrics, trellis and chevron patterns, it seems we are bracing for an influx of organic and photo-based patterns.
Los Angeles, CA (PRWEB) December 03, 2014
Strong, 1980s-inspired pastels, burnished brass and a mix of cultural influences in one space: these are just a few of the home décor looks you can expect to see more of in 2015, according to nousDECOR Chief Designer Mark Cutler.
Cutler, who – in addition to working with nousDECOR – is also an acclaimed LA-based decorator with Hollywood A-list clients and work that's appeared in magazines such as Traditional Home, the Robb Report and House Beautiful, has his finger on the pulse of the interior design and decor retail space. Here are his predictions for the top 10 trends that will shape home décor and interior design in the year ahead:
1. Technology: After a few quiet years, there seems to be a fresh crop of products that are going to start some new conversations about the role of technology in our homes. The first is voice-operated assistants. Jibo is a voice-operated assistant that can do many things, from making calls, adjusting the stereo and even the level of the lights. Amazon has just come out with a similar device, Echo. These may look like toys now, but the potential for these is huge, and these two are just the beginning. The second piece of technology to watch is television streaming devices. For ages, we have had yet another clunky box by the TV, whether it's Roku or any other number of devices, but the Amazon Firestick is changing all that. Just plug this piece of magic into the side of your TV and you are done, all for less than $50.
2. Color: Strong pastel colors are making a comeback. Nothing too bright, but definitely colorful. So start to think in terms of Sky Blue, Tangerine and Mint Green. If you are thinking this sounds a little 80s, then you would be totally right. That color palette is starting to come back ... just not leg warmers just yet.
3. Metal: Every design trend forecast must have a metal aspect attached too. Well the metal for this year is brass. That's right, it's back, after being pushed aside by nickel and then bronze for years, brass is now front and center. Look look more to a burnished, satin finish for now, rather than polished brass.
4. Pattern: After years of bright geometrics, trellis and chevron patterns, it's now time for an influx of organic and photo-based patterns. Manufacturers are using better technology in their mills, and it is allowing a fresh new look. So look for patterns that are based on organic forms, but not just flowers and leaves, but patterns based on mineral crosscuts, star patterns and photo studies.
5. Acrylic: One of the hottest trends of the year is totally transparent ... acrylic furniture is back. Perhaps it ties in with the 80s idea a little too well, but manufacturers are starting to line the showrooms with new see-through pieces, everything from bookshelves to tables and chairs.
6. Salon Hanging: As it starts to seem like the days of austerity are over, people are starting to shop again, and that means an accumulation of more stuff. So where to display it all? One of the best ways to do that in regards to art, is with salon hanging, i.e., grouping multiple pieces together. It's a great way of showing off many pieces at once, especially pieces with different styles and from different periods. Perhaps this was driven by the opening of the new Barnes Museum, which is famous for its juxtaposition of pieces.
7. Luxury: It's official: luxury is back. No more sitting on scratchy Belgian linen sofas or getting splinters on rough reclaimed tables. Bring on the velvets, silks and brocades. Bring on the varnish, gold leaf and french polish. As people begin to regain financial strength, this year will bring about renewed interest in the finer things, and the desire live like a well-appointed monk in Bruges is fading away.
8. Handmade: There is a rising interest in fine, handmade products. It's no longer enough to have an expensive piece of furniture; the trend now is to know who the artisan was, what techniques were used, etc. This trend is probably a reaction to the mass market retailers who are the antithesis of this. Access to these artisans ironically has been helped by the internet, which lets even the most obscure artist in the hills of Mexico reach out to a consumer on the coast of California.
9. Culture Clash: As people spend more time travelling the globe, either virtually or in real life, they are influenced by many cultures. Displaying these new discoveries creates a dynamic culture clash. Someone can sit in a French Deco sofa, set a drink on a carved Namibian table and rest their feet on a Moroccan rug, all the while basking in the light of a Venetian Chandelier.
10. Curated Online Collections: The increasing access to information everywhere can actually be overwhelming and paralyzing. This information overload is spurring the rise of curated collections online, i.e., tastemakers who have filtered all the white noise for you.
About nousDECOR
nousDECOR® (http://www.nousdecor.com) is an online interior design platform that combines crowd-sourced ideas and inspiration with search tools and automated recommendations to provide users with everything they need to decorate a space. Unlike other home décor sites or remodeling apps, nousDECOR provides much more than beautiful images and links to products, but also all the resources you need to translate dream designs into reality, from intelligent search tools and a "Same Look Different Price" recommendation engine, to a moodboard builder and access to thousands of moodboards curated by design professionals and enthusiasts. In addition, nousDECOR offers a host of exclusive expert content from celebrity designer Mark Cutler, as well as an engaged community of users and professional designers to seek out for advice, inspiration and collaboration. Based in San Mateo, California, nousDECOR announced a $2.1 million round of seed funding in October 2014.
# # #