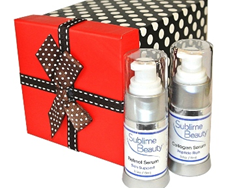 The popular Collagen Peptide Serum is light and airy, blends well with other skincare and is effective. It is featured in several Sublime gift boxes and makes a great gift.
St. Petersburg, FL (PRWEB) December 03, 2014
A great gift idea is a serum that can improve skin health and delight.
Get 20% off now at Amazon with coupon code COLL20XX. Add a boost of collagen with this Sublime Beauty® Collagen Peptide Serum for holiday glow.
"We lose collagen each year, and this situation accelerates as we age," says Kathy Heshelow, founder of Sublime Beauty®. "With less collagen, skin wrinkles, sags and thins."
A recommended way to address loss of collagen is to use peptides that step up production. Matrixyl is known as a superior peptide, and is featured in a number of Sublime Beauty® products.
"Our Collagen Peptide Serum is very popular. It is light, airy and blends well with other skincare products, and it works," says Heshelow.
The serum is available on Amazon or on the company webstore now.
The anti aging serum is also included in several stunning Christmas Gift Boxes. The gift boxes are marked down - no coupon code necessary.
ABOUT: Sublime Beauty® is a quality skincare company that focuses on products to "Age Younger". Ingredients help to boost collagen, hydrate, relax wrinkles and improve skin. A niche includes healthy Skin Brushes. The company webstore offers free standard shipping and a VIP Club. Sign up for Secret Sales on the site. Products also available on Amazon.