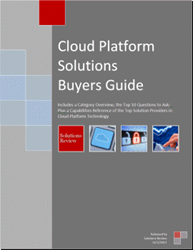 Now the opportunity is present for an even larger leap to the cloud.
Woburn, MA (PRWEB) December 03, 2014
Today, Solutions Review has announced the release of their latest technology news and information website, Solutions Review for Cloud Platforms. IT professionals can now turn to Solutions Review for all the latest news, updates, best practices and industry events surrounding the best Cloud Platforms for their enterprise and business needs.
The Solutions Review team has also compiled the top 28 Cloud Platform providers into an easy to digest guide, The 2015 Buyer's Guide for Cloud Platform Solutions, providing IT professionals with all the critical information needed to start a search and identify the right solution for their needs. The guide includes detailed vendor profiles, marketplace evaluations and the 10 questions you need to ask when evaluating Cloud Platforms and determining what is best for an organization's infrastructure.
Top providers highlighted in the guide include: ActiveState, Amazon Web Services, Apprenda, CA Technologies, CenutryLink, Citrix, CloudBees, cloudControl, Cloudera, Dell, Engine Yard, GigaSpaces, Google Cloud Platform, HP, IBM, Joyent, Mendix Cloud, Windows Azure, OpenShift, Oracle, OrangeSpace, OutSystems, Pivotal, Progress, RackSpace, SAP, SalesForce and Software AG.
"The enterprise is in the midst of a rapid and unnerving growth in mobility and data. The old and insular model for developing 'in house' solutions is giving way to a more open and experimental distributed approach. For the past decade 'cloud computing' has been gaining traction with businesses primarily through the Software-as-a-Service (SaaS) application model," says Doug Atkinson, Solutions Review President. "From the widespread adoption of mission critical systems like Customer Relationship Management (CRM), systems delivered through a cloud-based application, the enterprise and many of its younger technical employees have become comfortable with cloud services."
Now the opportunity is present for an even larger leap to the cloud. In addition to SaaS, three other cloud models have emerged for consideration: Infrastructure-as-a-Service (IaaS) – which provides access to hardware, network and physical resources; Backend-as-a-Service (BaaS) – which is focused mostly on mobile application back ends; and, Platform-as-a-Service (PaaS) – which provides a more comprehensive stack of solutions including databases, operating systems, development tools and middleware.
Solutions Review continues to put a large emphasis on site neutrality; rather than picking winners and losers in the Cloud Platform space the site presents all the facts regarding best practices and solution news allowing buyers to make an informed decision for their organization. "We feel that with the information presented on each site and the value offered in our Solutions Review Buyers Guides, we have developed a great source of knowledge for those trying to navigate a space that is truly opening doors for the enterprise," said Atkinson.
About Solutions-Review.com
Solutions Review is a collection of online news sites bringing the best technology news, opinions, social media, best practices and industry events together in one place for our readers. With a strong focus in the Enterprise Mobility, Big Data, Data Analysis, Identity Management sectors and the Cloud, Solutions Review is managed by a team of content experts and features original content along with a thoughtful aggregation of industry best practices and solution news. The site feature incorporate live social media streams including twitter and blog feeds along with an Events Calendar, a collection of relevant PowerPoint - Slide Shares and a hand-picked selection of online videos allowing seekers of technology solutions to make thoughtful and informed decisions.
Contact:
Matt Adamson
Solutions-Review.com
madamson(at)solutions-review(dot)com
339-927-9237