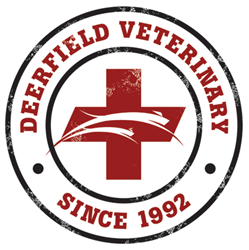 One reason Deerfield has such a strong reputation is that we hire professionals whose passion leaves them excited to continually learn new ways to treat and care for pets.
Springfield, Mo. (PRWEB) December 03, 2014
Deerfield Veterinary Hospital this week announced a series of continuing education seminars its staff members have recently attended or will soon attend as part of the hospital's ongoing initiative to schedule training for the latest advances in veterinary techniques. Continuing education has been a focus for Deerfield Veterinary Hospital since Dr. Denise Roche and Dr. Ned Caldwell first opened the practice in 1992, as Dr. Caldwell stated: "Of course we meet continuing education requirements, like all responsible vets do. We also think we owe it to the pets we treat and patient families we serve to look beyond the base requirements and, whenever possible, invest in additional training opportunities for our veterinarians and veterinary technicians."
Maintaining the philosophy that continuing education courses represent opportunities to grow each year has helped Deerfield's doctors and technicians remain highly trained in always-evolving disciplines. With services ranging from veterinary dentistry to important medical treatments to sophisticated surgical procedures, Deerfield recognizes the need to master and adopt veterinary breakthroughs for all services they provide. Therefore, they select seminars that offer a range of courses.
Recently Attended Veterinary Seminars
Technicians and vets in Springfield, Mo. often must travel to attend leading veterinary seminars, though Dr. Roche noted that she and her colleagues in Springfield are fortunate to practice in relatively close proximity to two cities that draw renowned conferences.
"Thankfully, we live just a short drive from either Kansas City or Columbia, Mo., both of which are known for strong support of the veterinary community," said Dr. Roche. She pointed to two recent seminars Deerfield personnel attended in Kansas City this fall: The Heatstroke Symposium and CVC Kansas City.
The Heatstroke Symposium, conducted for technicians only, offered numerous courses including the following: "Clinical Techniques in Exotic Animals" and "Heart Sounds and Murmurs in Dogs and Cats" as well as courses on veterinary anesthesia, skin conditions and fungi, ocular diseases and ingestion of toxins. Technicians Julie Hays-Broene and Melissa McHaffie from Deerfield animal hospital attended courses on pain management as well as maintaining a cohesiveness team to better serve pet patients and owners. Deerfield staff members who attended CVC Kansas City had the opportunity to choose from more than 630 seminars with separate programs specifically designed to benefit either veterinarians or technicians.
Upcoming Veterinary Seminars
In the coming weeks, Deerfield will send staff members to two additional continuing education seminars: CVC San Diego 2014 and the MVMA 123rd Annual Convention.
Deerfield Veterinary Technician Vanessa Baker will travel to the CVC San Diego event for four days of courses led by nationally recognized experts. The seminar, scheduled for Dec. 4 - 7, offers more than 500 session hours featuring more than 80 speakers. Baker currently plans on attending courses on digital radiography, patient anesthesia, and team motivation.
On Jan. 23, 24 and 25, 2015, Dr. Laura Hilton is scheduled to attend the annual conference held by the Missouri Veterinary Medical Association. The convention will take place at the Saint Charles Convention Center in Saint Charles, Mo. and will offer many valuable courses. Topics include biochemical profiling of the liver, hereditary diseases, acute emergency wound management, prevention of disease introduction and spread, post-operative care of the critical patient and many more.
Deerfield Veterinary Hospital's patient families can anticipate the staff's commitment to continuing education will only grow, as Dr. Roche addressed: "One reason Deerfield has such a strong reputation is that we hire professionals who are clearly passionate about veterinary care. That's why every member of our staff gets excited to learn new ways to help pets live as long and healthily as they possibly can."
To learn more about Deerfield Veterinary Hospital in Springfield, Mo., follow them on Facebook, Google+, LinkedIn, YouTube and the Deerfield blog, or visit deerfieldvet.com.