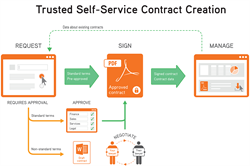 New York, New York (PRWEB) December 03, 2014
Business Integrity®, the world leader in legal document automation solutions for law firms and corporations, today announced that Pure Storage, a fast-growing corporation in Mountain View, California, has licensed ContractExpress for Salesforce after a thorough selection process.
ContractExpress was chosen for its self-service contract creation feature which Pure Storage believes is ideal for the company's team of Salesforce users. Pure Storage also noted Business Integrity's responsiveness and willingness to address the company's unique needs for automated contract creation, as well as referrals and testimonials from current Business Integrity customers.
Corporations use ContractExpress to eliminate legal bottlenecks and shorten the sales cycle by automating the creation and approval of sales agreements. Business users access approved standard contracts as soon as they have completed a simple questionnaire, leaving corporate counsel free to focus on nonstandard contracts.
About Business Integrity
Business Integrity develops and markets the ContractExpress family of contract creation and document automation products for deployment on intranets, extranets, SharePoint, the cloud and Salesforce. Many leading corporations and law firms in the U.S. and internationally use ContractExpress to produce standard contracts more quickly, more consistently and at lower cost, enabling their lawyers to focus on high-value, nonstandard agreements. The company was founded in 2000 and is privately held, with offices in New York City and London. For more information about Business Integrity and ContractExpress, please visit http://www.business-integrity.com.