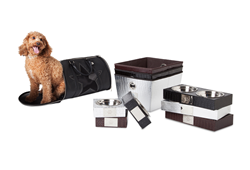 We saw a void in the marketplace and wanted to offer pet owners products they would be proud of and want to show off
New York, NY (PRWEB) December 03, 2014
Americans spend billions of dollars on their pets every year. With the figures expected to increase in 2015, popular pet product brand, LazyBonezz, has launched an e-commerce site that caters to people looking for exceptional pet gifts.
The brand, founded in 2008 by mother-daughter design team Adrienne Shamie and Lorraine Gold, offers a large assortment of fashion-forward pet products, including super-stylish pet collars, leashes, harnesses and carriers, as well as beautiful products for home such as feeding dishes, beds and pet toys. The products are all unique, trendy and great for both dogs and cats.
"We saw a void in the marketplace and wanted to offer pet owners products they would be proud of and want to show off," noted Lorraine Gold. "We believe style shouldn't stop with your pets, especially when they are an extension of yourself and your home."
Even with the addition of new categories, including toys, customized leashes and dog collars, charms and pet carriers, the New York-born brand continues to stay true to its roots, offering their signature celebrity-loved pet bunk bed and other pet furniture that complements existing home décor.