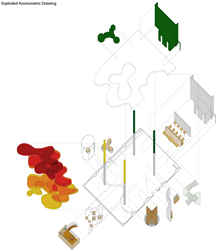 LOS ANGELES (PRWEB) December 04, 2014
Affirming its status among the elite in its field, Woodbury University's undergraduate Interior Architecture program has been ranked second best in the West, according to the DesignIntelligence 2015 ratings of America's Best Architecture & Design Schools 2015 (http://www.di.net/articles/americas-best-interior-design-schools-2015/).
For more than a decade, DesignIntelligence has published the definitive school ranking as determined by practitioners who employ design professionals. In the 2015 ratings, Woodbury is ranked in second place, with the University of Oregon's program taking the top spot in the West and California College of the Arts placing third.
America's Best Architecture & Design Schools is conducted annually by DesignIntelligence on behalf of the Design Futures Council. The research ranks undergraduate and graduate programs from the perspective of leading practitioners. The 15th annual survey was conducted in mid-2014. The professional practice survey queried participants on the question, "In your firm's hiring experience in the past five years, which of the following schools are best preparing students for success in the profession?" In addition, firms were queried about additional issues, such as how programs rate in teaching various skills.
"The DesignIntelligence rankings value the professional attributes around which we've structured our curriculum, which is why this recognition means so much to our students, faculty and staff," said Christoph Korner, Department Chair, Interior Architecture, in the School of Architecture. "We seek to expose our undergraduates to disciplines outside the strict confines of traditional architectural degree programs, an approach that is simultaneously aspirational and practical. And given that DesignIntelligence effectively takes the pulse of the profession itself, this year's rating is all the more gratifying."
Selected professional practice leaders with direct experience hiring and supervising the performance of recent architecture and design graduates are invited to participate in the research. Survey participants, who are drawn from the Greenway Group database of leading firms throughout the United States, must verify they are currently responsible for hiring or supervising design professionals in each of the design fields for which they respond: architecture, industrial design, interior design, and landscape architecture.
For the four professions surveyed, a total of 1,426 professional practice organizations participated in the research. The full report—including Architecture programs ranked 11-20 and related rankings for interior design, landscape architecture, and industrial design programs—is now available in print and PDF editions.
The DesignIntelligence rating is the second major accolade for Woodbury's Interior Architecture program this academic year. In September, Annie Chu, IIDA, AIA, a respected architect, interior designer and member of the Interior Architecture faculty, received the International Interior Design Association's Leadership Award of Excellence from IIDA's Southern California chapter.
About Woodbury University
Founded in 1884, Woodbury University is one of the oldest institutions of higher education in Southern California. Woodbury offers bachelor's degrees from the School of Architecture, School of Business, School of Media, Culture & Design, and College of Transdisciplinarity, along with a Master of Arts (MA) in Media for Social Justice, Master of Architecture (MArch), Master of Interior Architecture (MIA), Master of Science in Architecture (MSArch), and Master of Leadership. The San Diego campus offers Bachelor of Architecture and Master of Architecture degrees, as well as an MSArch degree with concentrations in Real Estate Development and Landscape + Urbanism. Woodbury ranks 15th among the nation's "25 Colleges That Add the Most Value," according to Money Magazine. Visit http://www.woodbury.edu for more information.