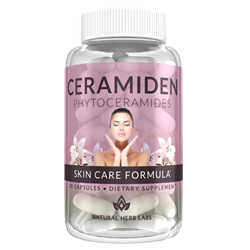 We are excited to announce the addition of our powerful new skin care and anti-aging formula to the market
LEWES, Del. (PRWEB) December 03, 2014
Natural Herb Labs, providers of all-natural herbal supplements manufactured in the United States, today announced the addition of Ceramiden with Phytoceramides to its product line. Ceramiden with Phytoceramides is a plant-derived lipid that keeps skin hydrated and plump. Clinical studies have shown the benefits of Phytoceramides to improve skin health, support the immune system, and even enhance brain function.
Ceramiden with Phytoceramides is an all-natural herbal supplement made from 100 percent natural herbal and plant based ingredients. Ceramides are natural components of human skin, forming a natural barrier in the horny layer, which is one of the four layers of the epidermis, they play an important role to help the skin retain its moisture and reduce infection. Ceramiden contains a unique formula that boosts and maintains healthier, younger-looking skin.
The herbal supplement contains Phytoceramides which offer a number of benefits:

Contains the same lipids that are found naturally in our skin; they mimic their actions to plump out the skin.
Penetrates each of the four layers of our skin (known as dermal layers).
Stimulates the production of collagen, which plumps the skin and increases elasticity.
Supports a protective barrier against infections and inflammation, aiding with problems such as dry skin, sun damage and patches.
Suppresses free radicals, enhancing the protection of tissues from external harmful effects such as pollution, sunshine, and stress).
Keeps the skin hydrated, retaining moisture and helping stave off wrinkles
In addition to Phytoceramides, the supplement also contains essential vitamins:
Vitamin A which helps form and maintain healthy skin, teeth, and skeletal and soft tissue. It also promotes good vision, especially in low light.
Vitamin C which promotes healing, supports the immune system, and prevents skin shrinking.
Vitamin D which promotes healthy bones, absorption of calcium, and regulates your immune system.
Vitamin E which is a potent antioxidant that protects the body from free radicals, fighting the signs of aging, protecting the skin from sun damage, and potentially lowering skin cancer risks. It also slows the aging process and has shown to reverse existing signs of aging such as crow's feet from the inside out
"We are excited to announce the addition of our powerful new skin care and anti-aging formula to the market," stated Richard Sylvester, co-founder of Natural Herb Labs. "Clinical studies have shown the benefits of Phytoceramides to improve skin health, support the immune system and enhance brain function, and best of all it's 100 percent natural."
Natural Herb Labs is offering Ceramiden Phytoceramides in three different packages:
one bottle for $45;
three bottles for $90 (buy two and get one at no cost);
or five bottles for $135 (buy three and get two at no cost)
Domestic shipping is also provided at no charge. Customers who create an automatic shipping account receive their first bottle at no cost and pay only $45 for each bottle thereafter. The company also offers global shipping to residents outside of US.
To learn more go to Ceramiden.com
About Natural Herb Labs LLC
Natural Herb Labs based out of Delaware, Utah and North Carolina, is an all-natural herbal supplement company geared towards creating 100 percent American made vitamins and supplements. The company aims to help people of all ages and all races live a healthy lifestyle through their products and services.
Media Contact: Richard Sylvester, Natural Herb Labs LLC, 1-800-769-8423, sales(at)naturalherblabs(dot)com