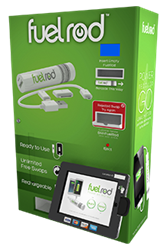 San Diego, Calif. (PRWEB) December 03, 2014
FuelRod, a San Diego-based technology company, announced today that its portable charger for mobile phones and tablets has been selected as a finalist in the Communications and IT category for the 2014 Most Innovative New Product Awards, sponsored by CONNECT. CONNECT, a regional program that catalyzes the creation of innovative technology and life sciences products in San Diego County, continues its twenty-seven year tradition of honoring San Diego's leaders of innovation and groundbreaking new products with the annual award.
"FuelRod vending machines dispense mobile-charger starter kits, which include a FuelRod mobile-device-charger, carrying case, USB power cable and adapters for iOS and Android devices," said FuelRod CEO Chi Yau. "After the FuelRod has been used, customers can conveniently exchange it for a free, new 'ready-to-go' unit or recharge it using a standard power outlet. Customers, who no longer have to find power outlets at participating airports, malls or convention centers, are permitted to keep the carrying case, USB cable and adapters at no additional charge."
The CONNECT Most Innovative New Product Awards ceremony, to be held at the Hyatt Regency La Jolla at Aventine on December 4, will honor product innovation in the following 8 categories: Aerospace & Security Technologies, Communications & IT, Diagnostics & Research Tools, Mobile Apps, Pharmaceutical Drugs & Medical Devices, Software, Sport & Active Lifestyle Technologies and Sustainability.
"For 27 years CONNECT has been hosting the Most Innovative Products awards and each year the entrants just keep getting better – this is one of the most competitive fields we've seen for MIP yet, " said Greg McKee, CEO of CONNECT. "Annually, through the MIP awards, CONNECT proudly presents to the community the innovations and ground-breaking products being developed in San Diego."
The 2014 Most Innovative New Product Awards received generous support from lead sponsors Ardea Biosciences and Cubic, as well as supporting sponsors including Barney & Barney, Cox, CBRE, D&K Engineering, Kaiser Permanente, Knobbe Martens, Merck, Nextivity, Pfizer, PricewaterhouseCoopers, Procopio, Qualcomm and San Diego State University.
For the complete list of winners and other information please visit the Most Innovative New Product Awards website.
About FuelRod
San Diego, California based FuelRod develops efficient and environmentally conscious solutions that provide power for portable and battery operated devices. Founded in 2010, the company offers battery solutions servicing a wide range of product applications from cell phones and tablets, to flashlights and remote control toys. FuelRod keeps power accessible on the go, and keeps batteries out of landfills to support a cleaner more productive planet. For more information visit: http://www.fuel-rod.com.
About CONNECT
CONNECT is a regional program that catalyzes the creation of innovative technology and life sciences products in San Diego County by creating an environment in which inventors and entrepreneurs have access to the resources they need for success. Since 1985, CONNECT has assisted in the formation and development of more than 3,000 companies and is now widely regarded as one of the world's most successful organizations linking inventors and entrepreneurs with the resources they need for commercialization of innovative products. As a result, the program has been modeled in more than 50 regions around the world – most recently in New York City, Bogotá, Colombia and Saudi Arabia. To learn more about CONNECT, please visit http://www.connect.org or call 858.964.1300.