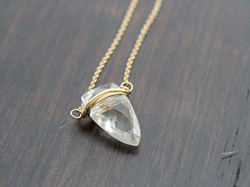 Edgy but modern... dress it up or down.
Portland, Oregon (PRWEB) December 04, 2014
Saressa Designs (http://www.saressadesigns.com), a Blake Lively Preserve Lifestyle Pick, has had its Finn Necklace worn by Candice Accola in promotional shots and video for Season 6 of The Vampire Diaries. The necklace was later worn by Jodi Lyn O'Keefe (playing Dr. Jo Laughlin) on Episode 607. The episode, titled "Do You Remember the First Time," aired November 13, 2014.
The wardrobe stylists for The Vampire Diaries selected Saressa Designs' individually handcrafted Finn Necklace for use after receiving it in a Stylist Gift Bag from The Artisan Group®. The Artisan Group is a California-based arts promotion and celebrity gifting organization, of which Saressa Designs founder Rachel Hughes is a member.
The Finn Necklace features a stunning, high quality, plump natural Crystal Quartz briolette wrapped with a perfectly proportioned halo of 14k gold filled wire. The sparkling briolette is suspended from a delicate yet sturdy 14k gold filled chain. The expertly faceted and eye clean stone creates a pendant that makes a statement in its simplicity. The triangular shape of this unique stone is reminiscent of a tooth or dorsal fin of a shark. It is a little tribal, a little surfer and works well alone or layered with other pieces.
Rachel says she selected the Finn Necklace to submit for consideration of use on The Vampire Diaries because it is edgy but modern, making it versatile enough to fit in with the style of several different characters. She notes, "The gemstone is neutral so it is easy to dress up or down and can be easily paired with many different wardrobe pieces. Also, the stone shape is unique to my brand. I've had the good fortune to work with an expert gem cutter to create this unusual design, which I now have available in Lapis Lazuli, Crystal Quartz and Labradorite."
The Finn Necklace is available to purchase at SaressaDesigns.com and retails for $58.00.
Saressa Designs recently had its Triangle Druzy Studs selected as a "Shop Jewelry" lifestyle pick on Blake Lively's Preserve site. The 8mm Triangle Druzy Studs earrings showcase shimmering Druzy quartz gemstones set in hand-wrapped gold wire bezels. Preserve describes the earrings as a "triangular crush of scintillating quartz [that is] thoroughly modern…simple, soft and wearable, even for every day."
In other news,Karla Souza of How To Get Away With Murder was photographed wearing Saressa Designs' Spearhead Necklace at GBK's 2014 Primetime Emmys Celebrity Gift Lounge*, in association with The Artisan Group®. The company is currently working with Preserve on a new spring line.
To learn more about Saressa Designs, become a fan on Facebook (fb.com/SaressaDesigns) and follow the company on Twitter (@SaressaDesigns).
ABOUT SARESSA DESIGNS
Saressa Designs (http://www.saressadesigns.com) features wire wrapped gemstone jewelry designed and hand crafted by Rachel Hughes. Rachel's jewelry is primarily composed of precious/semi-precious metals and gemstones and also incorporates brass, copper, Swarovski crystal and glass. Rachel strives to create quality jewelry that is both classic and contemporary; which collectors will wear time and time again.