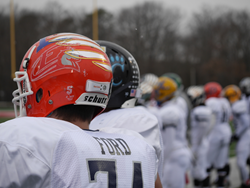 Providing this additional safety tool for our All-Star players and coaches is just the right thing to do
Baltimore, Maryland (PRWEB) December 03, 2014
Top college senior football players from around the country selected by a panel of football experts to participate in the inaugural College Gridiron Showcase (CGS) will wear Brain Sentry Impact Sensors during practice sessions and the game itself, to be held on Saturday, January 10, 2015 at Maverick Stadium on the campus of the University of Texas-Arlington in Arlington, Texas and televised via Comcast Sportsnet.
The Brain Sentry helmet-mounted sensors alert when an athlete suffers an unusually rapid and potentially dangerous acceleration of the head, indicating that the player should be assessed for possible injury. They also track subconcussive hits, helping coaches identify players with tackling and blocking techniques that include excessive head/helmet contact.
Jose Jefferson, co-founder and Executive Director of the College Gridiron Showcase, explained why he insisted on putting Brain Sentry devices on the helmets of every player. "Unlike a structural injury that involves a ligament tear or sprain, brain injuries are not always apparent or detectable, and often athletes will continue playing after sustaining concussions without knowing they are at risk for increasing a debilitating outcome. Providing this additional safety tool for our All-Star players and coaches is just the right thing to do."
"The safety of our players is the top priority," stated Craig A. Redd, co-founder and Director of Operations. "One of the main goals of the CGS is to make the game safer for the players and the sensors will help us to monitor two critical concussion risk factors – hard impacts to the head and excessive number of subconcussive impacts to the head."
Greg Merril, co-founder and CEO of Bethesda, Maryland-based Brain Sentry, said, "Athletes don't want to be pulled off the field. They hide symptoms of concussion. They might not even know they have one, and knowing is critical because many catastrophic brain injuries are the result of second impacts to already concussed athletes. Brain Sentry monitors impacts and helps identify athletes who should be assessed for concussion."
-more-
Brain Sentry's sensor estimates direction, peak acceleration, and duration of impacts as experienced at the center (CG) of the head. This patented sensor technology includes a micro-electromechanical, tri-axial accelerometer capable of measuring acceleration from any direction. Helmets provide varying levels of impact protection depending on the direction of the hit. Brain Sentry's proprietary, DAS™ technology (Directionally Adaptive Sensing) is designed to provide a consistent alert level – independent of hit direction or helmet type.
The compact sensors weigh only one ounce, are waterproof and the batteries last all year without charging, meaning no maintenance by the athletes or staff. Brain Sentry sensors are made in the U.S. and easily affix to the outside of the helmet (on the back). The product senses head impact and acceleration and serves as another set of eyes helping coaches and trainers identify players that need to be assessed for concussions.
About Brain Sentry: Brain Sentry has a simple goal: to stop lives from being devastated by sports-related brain injuries. Named a Top Startup of the Year in 2013 by The Wall Street Journal, Brain Sentry is privately held and headquartered in Bethesda, MD. The company was founded by a team of award-winning health-related product developers who have continued to win accolades; the Brain Sentry Impact Sensor was named Best Tech Product of the Year by Baltimore Innovation Week. Featured on The Today Show and Good Morning America, Brain Sentry is the official sensor provider for the Arena Football League. Brain Sentry's initial focus is to provide sensors for the most popular helmeted contact sports: football, lacrosse, and hockey. Brain Sentry is also developing sensors for biking, alpine, and other helmeted activities. Learn more at http://www.brainsentry.com.
About the College Gridiron Showcase: College Gridiron Showcase is an All Star football game for all College Football Divisions to take place on January 10, 2015 at 11 AM CST at the University of Texas-Arlington's Maverick Stadium in Arlington, Texas. The game will be televised nationally on Comcast Sports Network. Players will come in for six days and five nights to be evaluated by professional football league scouts. The players will receive professional coaching, mentoring, life coaching and seminars that will benefit them as they move forward in their professional lives in or out of football. The game and practices leading up to the game will showcase the players to scouts and executives from top professional leagues such as the NFL, CFL and AFL. The players will attend meetings, have practice, perform individual drills, 1 on 1's, team drills and in many cases have personal interviews with the scouts and executives from these professional clubs. For more information visit http://www.collegegridironshowcase.com.
About Concussions: Among the 135 million participants (ages 6+) in team sports in the U.S., concussions are one of the most commonly reported injuries. According to research published in The American Journal of Sports Medicine, 39% of the high school and collegiate football players that suffered catastrophic head injuries were found to have been playing with concussion symptoms at the time of the catastrophic event.