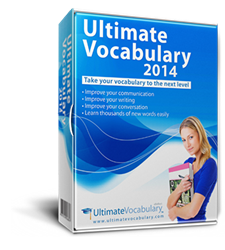 Mistakes in writing can be eliminated or reduced if the author first focuses on things that help them to improve vocabulary knowledge and grammar.
New York City, NY (PRWEB) December 04, 2014
The Ultimate Vocabulary™ editors share an insightful blog post on how to avoid awkward errors in writing, and especially how to spot and fix any problems before hitting the publish button. eReflect, the vocabulary builder software designer, insists that knowing how to spot misspellings and grammatical mistakes will help improve the overall quality of anyone's writing. In turn, this helps make their blog posts and articles more appealing to readers, and more likely to be shared with other web readers.
The blog post by Ultimate Vocabulary™ explains frequent writing pitfalls, such as the difference between "a" and "an," and explains how they should be used in sentences to avoid the commonly mistaken misuse of these articles.
The editors point out that even if a word starts with a consonant, they shouldn't use the "a" article if that word is an acronym which, when spelled out and pronounced, begins with a vowel. The editors highlight "NBA" as an example, pointing out that the correct form is "an NBA player" and not "a NBA player."
The editors also touch on the topic of homophones, an aspect of the English languages that terrifies many writers. As the editors note, homophones are the cause of some of the most frequently made mistakes in published texts. Writing "hear" instead of "here" or "nights" rather than "knights" leads to trouble for the author and confusion for the readers. Owning and using power vocabulary words is more than simply knowing the meaning of those words, it's knowing their proper usage. Even simpler words like "deer" and "dear" can cause problems, if the writer does not notice they used one in the place of the other due to a momentary lack of focus.
Mistakes in writing can be eliminated or reduced if the author first focuses on things that help them to improve vocabulary knowledge and grammar. Learning rules like when to use the words "fewer" and "less" correctly, how to spot a dangling modifier, and the best way to rewrite a sentence will help writers create more high-quality work. The English language might be filled with linguistic minefields, the Ultimate Vocabulary editors conclude, but with practice and learning, these problems can be avoided.
***********
For more information on how you can benefit from Ultimate Vocabulary, please visit its official website, http://www.ultimatevocabulary.com.
About Ultimate Vocabulary™
Ultimate Vocabulary provides a proven and powerful platform, built to improve anyone's vocabulary.
The interactive self-improvement system provides more learning tools than any other program on the market, as well as more information on words.
The Ultimate Vocabulary software provides each and every user with a personal computer tutor. Providing a step-by-step guide to learning a powerful vocabulary, Ultimate Vocabulary is the learning tool everyone can benefit from.
Of course, the software is also backed by eReflect's iron-clad money back guarantee.