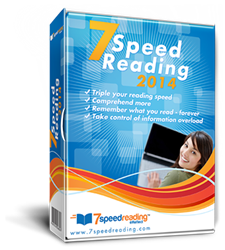 Books give a concise form to the wisdom and power the authors took years of painstaking research and effort to arrive at, which the reader can share.
New York City, NY (PRWEB) December 05, 2014
"Does reading make you a better person?" people often wonder. eReflect believes that it does, and supports this statement in a new blog post on the 7 Speed Reading™ website. eReflect has been a long-time advocate of reading as a path to empowerment, wisdom, and success. In this latest blog post, the designer of the speed reading software recaps the benefits of reading for everyone, highlighting power and empathy as its most important benefits.
The designer of a popular learn to speed read software asserts that reading is an experience that leads to self-reflection, broadens understanding, and provides other benefits that are essential to people in their efforts to attain wisdom and knowledge. Reading is a means of escape, a means to mentally travel, a way to emotionally explore concepts, and a psychological immersion in awe-inspiring stories and plots, eReflect says.
Most importantly, reading is a means to be more empathetic. The company notes that reading stories of grand battles, of feats and defeats, and even of dragons and aliens helps people develop a better understanding of the human psyche, understand its limitations and power, and become more sensitive to people's uniqueness and respect them for it. Reading is a window to cultures, souls, minds, and the world at large that no amount of technology can yet provide.
Reading helps people grow and become more interesting when socializing. Reading provides entertainment and encourages people's inner growth as well, something eReflect mentions in its recent blog post.
Even if a person never reads a self-help book in their lifetime, any book is a self-development book because of the new experiences and insights it offers. Books are packed with lessons others have learned. Books give a concise form to the wisdom and power the authors took years of painstaking research and effort to arrive at, which the reader can share.
As eReflect emphasizes, "Reading is the most effective, fastest way to empowerment and success. People who read a lot thrive in life. The more one reads, the more tools they have at their disposal to grapple with life's twists and turns."
eReflect encourages people to read, and especially to read more often. The company points out that if circumstances allow people to improve their reading capability by learning how to speed read, they will reap all these benefits much faster.
************
For more information about the benefits of using 7 Speed Reading, please visit the official website at http://www.7speedreading.com.
About 7 Speed Reading™
7 Speed Reading is the only modern speed reading software that uses the latest technology to produce superior results.
The software provides its users with a new way to master speed reading that guarantees three times the reading speed along with improved memory and comprehension.
The software is poised as the most comprehensive speed reading system anywhere. It contains seven learning strategies, fifteen software activities, video training, advanced tracking capabilities and many more exciting features.